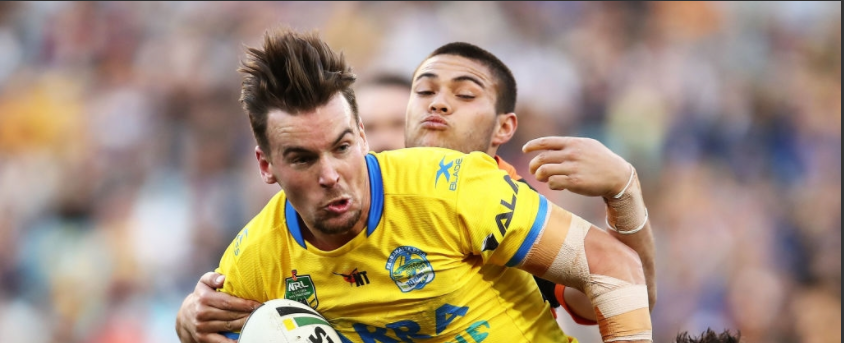 The fake news that's actually fake.
Parramatta's Clint Gutherson is a budding YouTube superstar.
Inspired by his 'wardrobe malfunction' at the Parramatta awards night, Gutherson launched 'Gutho's Great House Tips' last week.
Topics include:
– How to vacuum the floors without leaving the couch.
– How to tell your left shoe from your right shoe.
– How to dress when you forgot to do laundry.
– How many times can you re-use your lucky underwear and get away with it?
– Ten easy tips to remember bin night.
– Dishwasher broken? Let your pets do the washing for you.
"It's pretty great so far. Most footy guys have no time, so these handy tips will help them out. I even got my first subscriber. The Parra boys and Brad Arthur love it too," said Gutherson.
"I love the bloke but his videos are deadset woeful!" said Arthur. "I watched the vacuum one and the machine wasn't even turned on.The videos give us a good laugh after training, it's great for team bonding."
The Forward Pass is a fictional and deliberately ridiculous look at the NRL. References to real people is for satirical purposes only.
Check it out on Twitter @thefwdpass

Latest News
Embed from Getty Images Josh Reynolds and Aaron Woods face their former clubs for...

British Rugby League has come on leaps and bounds in the last few years....

Jimmy Keinhorst has been recalled from his loan at Widnes Vikings by Leeds after...

Leeds Rhinos captain Kallum Watkins will miss the rest of the season after scans...

The Cronulla Sharks made it five straight wins on Sunday afternoon, defeating the Canterbury-Bankstown...