#WRLWC2017: Round 3 Preview
Round 3 of the Pool rounds is here, and it's time to learn the finals fate of the women's World Cup.
England vs Cook Islands
Wednesday 1:45pm AEST, Southern Cross Group Stadium
This round is significant for both teams, for different reason. England will be leaning on this to change their finals for the better, and Cook Islands will be wanting to go out with one win.
England have named a very similar squad, with a slight shuffling in positions. Captain Andrea Dobson has been moved to lock and centre Jess Courtman has been named on the bench, replaced by Sarah Dunn. Kirsty Malone has not been named, and replaced by Claire Garner.
The Cook Islands team has seen some minor and some major changes. Skilled backs Urshla Kere and Crystal Tamarua have returned, while Inangaro Maraeara and winger Lydia Turua-Quedley have been moved into the halves. There has also been inclusions of Karol-Ann Tanevesi, Jayne Kareroa, Stephanie Wilson and Eliza Wilson.
Prediction
This is going to a be tough and physical game. While Cook Islands will be determined, England are just too strong to see an upset. England by 20.
Team Lists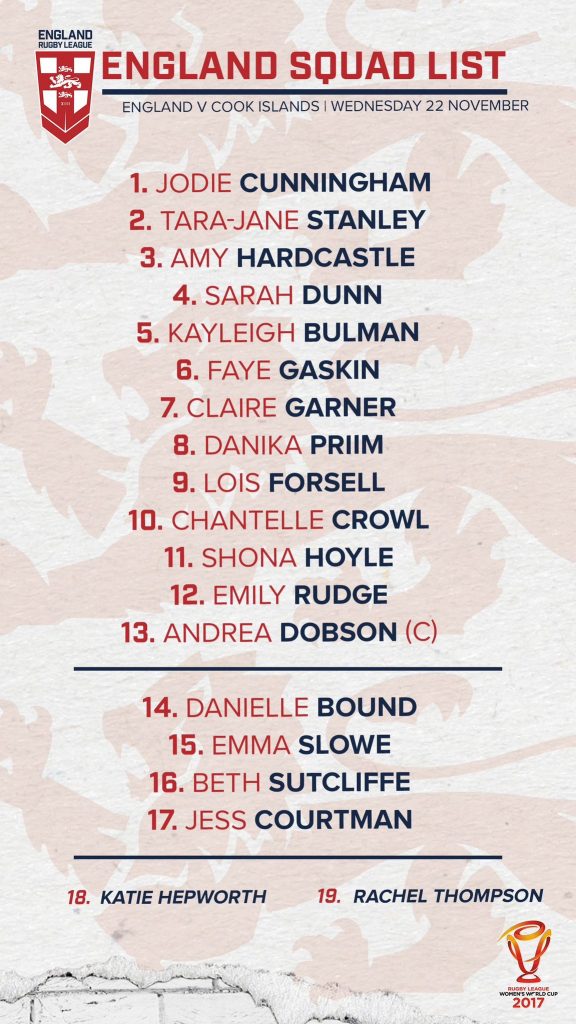 Cook Islands:
#1 Kiana Takairangi
#2 Amina Koiatu
#3 Chantelle Schofield
#4 Crystal Tamarua
#5 Urshla Kere
#6 Inangaro Maraeara
#7 Lydia Turua-Quedley
#8 Toka Natua
#9 Katey Arona
#10 Karol-Ann Tanevesi
#11 Te Amohaere Ngata-Aerengamate
#12 Kaylen Ikitule
#13 Te Kura Ngata-Aerengamate
#14 Cecelia Strickland
#15 Danielle Apaina
#16 Jayne Kareroa
#17 Stephanie Wilson
#18 Eliza Wilson
#19 Natalee Tagavaitau
Australia vs Canada
Wednesday 4pm AEST, Southern Cross Group Stadium.
Of any game this round, this one has the most potential for an upset.
Australia are guaranteed top of Pool A regardless of whether they win or lose, but that won't stop them from going for a win. Canada are coming off their first win so will be on a high and ready to go on a roll and secure their finals spot.
The Jillaroos have made significant changes to the squad, confidently resting key players Nakia Davis-Welsh, Isabelle Kelly and Steph Hancock. Kezie Apps has been named on the bench, with gun halfback Caitlin Moran named on an extended bench.
Canada are yet to name their squad.
Prediction
The potential is there for an upset, but Australia has too much speed, strength and power to be beaten. Australia by 15
Team Lists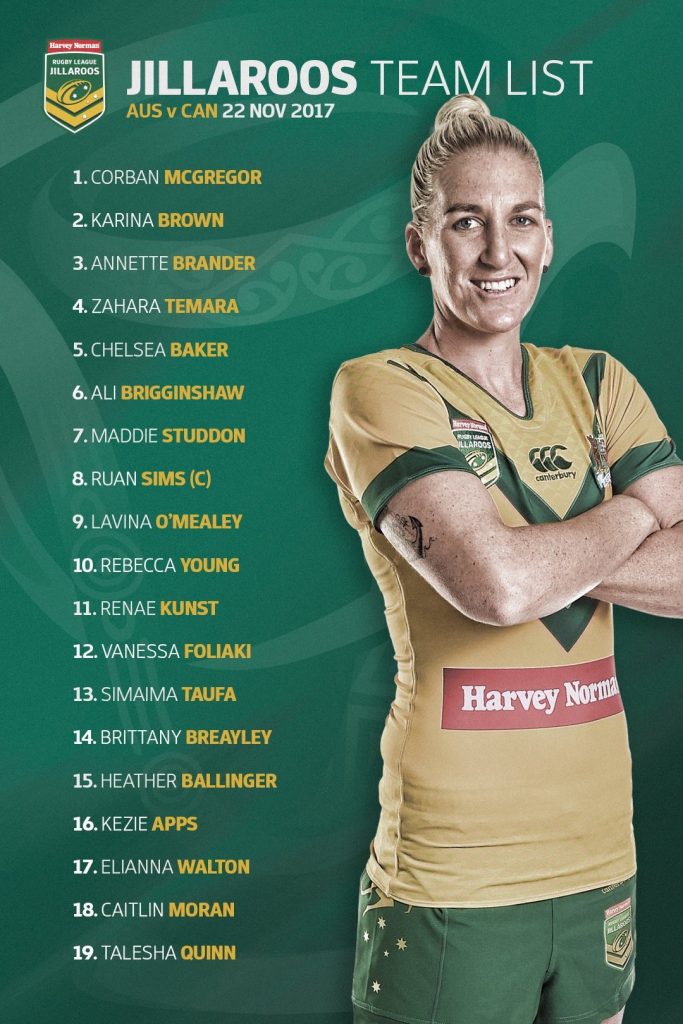 Canada:
TBA
New Zealand vs PNG
Wednesday 6pm AEST, Southern Cross Group Stadium
Much like Australia, New Zealand are guaranteed top of Pool B. They're on a roll after two big wins and their fierce forward pack and left edge attack will be dangerous to do it again.
PNG have been weak this World Cup, but will want a win to finish. While they have speed and toughness, they need to control their defence and ball handling to have a chance against the experience of New Zealand.
New Zealand are also showing confidence in their squad, resting stars Honey Hireme, Kimiora Nati and Lilieta Maumau. Prop Aieshaleigh Smalley is set to make her debut in number 8.
PNG are yet to name their squad.
Prediction
New Zealand will be too strong against a side that has struggled. New Zealand 20+
Team Lists
PNG:
TBA