International Rugby League News
Womens Rugby League
#WRLWC2017 | Jillaroos and Ferns heading towards Final showdown
It's semi-finals time for the women's World Cup with Australia and New Zealand favourites to play off in Brisbane next Saturday.
Australia vs Canada
Sunday, 1:45pm AEST
Southern Cross Group Stadium
While the Jillaroos have shown the expected dominance while the Ravens have been a dark horse that weren't expected to make finals.
The Jillaroos are undefeated with a winning streak of high scores. They have skill, speed and strength right across the field.
The Ravens are made up of mostly Rugby 7's players, so have significant speed and skill across the field.
The Jillaroos have named a strong side, with rested players such as Isabelle Kelly and Caitlin Moran being named to return to the starting line up. Gun halfback Maddie Studdon and barging forward Ruan Sims have been named on the bench, with Zahara Temara and Dally M female player winner Simaima Taufa named on an extended bench.
The Ravens have not yet named their team.
Prediction
With two teams who have had very different World Cups, it's going to come down to the Ravens defence. They've had some big scores against them and holding their line is their best bet against a strong Australian team.
I see it being Jillaroos by 30+
Teams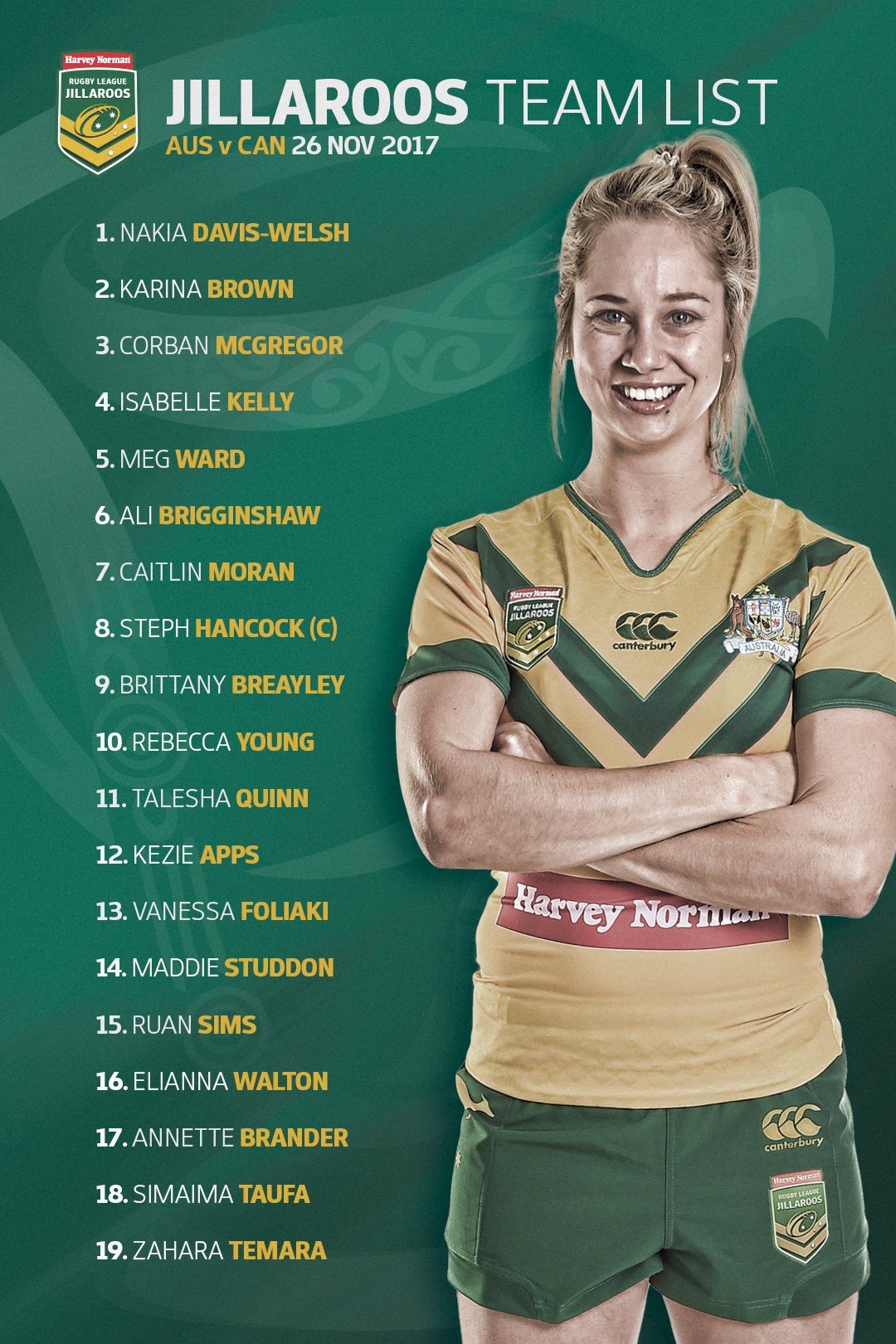 Canada
TBA
England vs New Zealand
Sunday 4pm AEST
Southern Cross Group Stadium
When two of the top nations in the World Cup verse each other, you know it's going to be a good match.
New Zealand have been dominant throughout the pool rounds, remaining undefeated. Through their big forward pack and quick left edge attack, they've put on some big scores in the pool games.
England have had a rough journey to date. With a big loss to Australia, and a narrow upset by Cook Islands, their only win remains against Papua New Guinea. Much like Australia, their speed, size and skill is spread across the field.
New Zealand have named a changed up side, with many new or returning players in their starting line up. Speedy winger Honey Hireme has returned from being rested, and Lileta Maumau, Hilda Peters and Laura Mariu gave been named to start in the forward pack. Apii Nicholls Pualau has returned to fullback, with Shontelle Woodman starting in the centres and Kimiora Nati in the halves.
England have named winger Charlotte Booth and halfback Kirsty Moroney to return to the starting line up, with Katie Hepworth to return on the bench. Their star players returning will be significant in what will be their biggest game.
Prediction
England have struggled this World Cup, and injuries haven't helped. Any niggily injuries will cost them against a rough New Zealand side. It'll be a physical game, and it'll come down to who can out muscle the other.
My prediction, New Zealand by 15.
Team Lists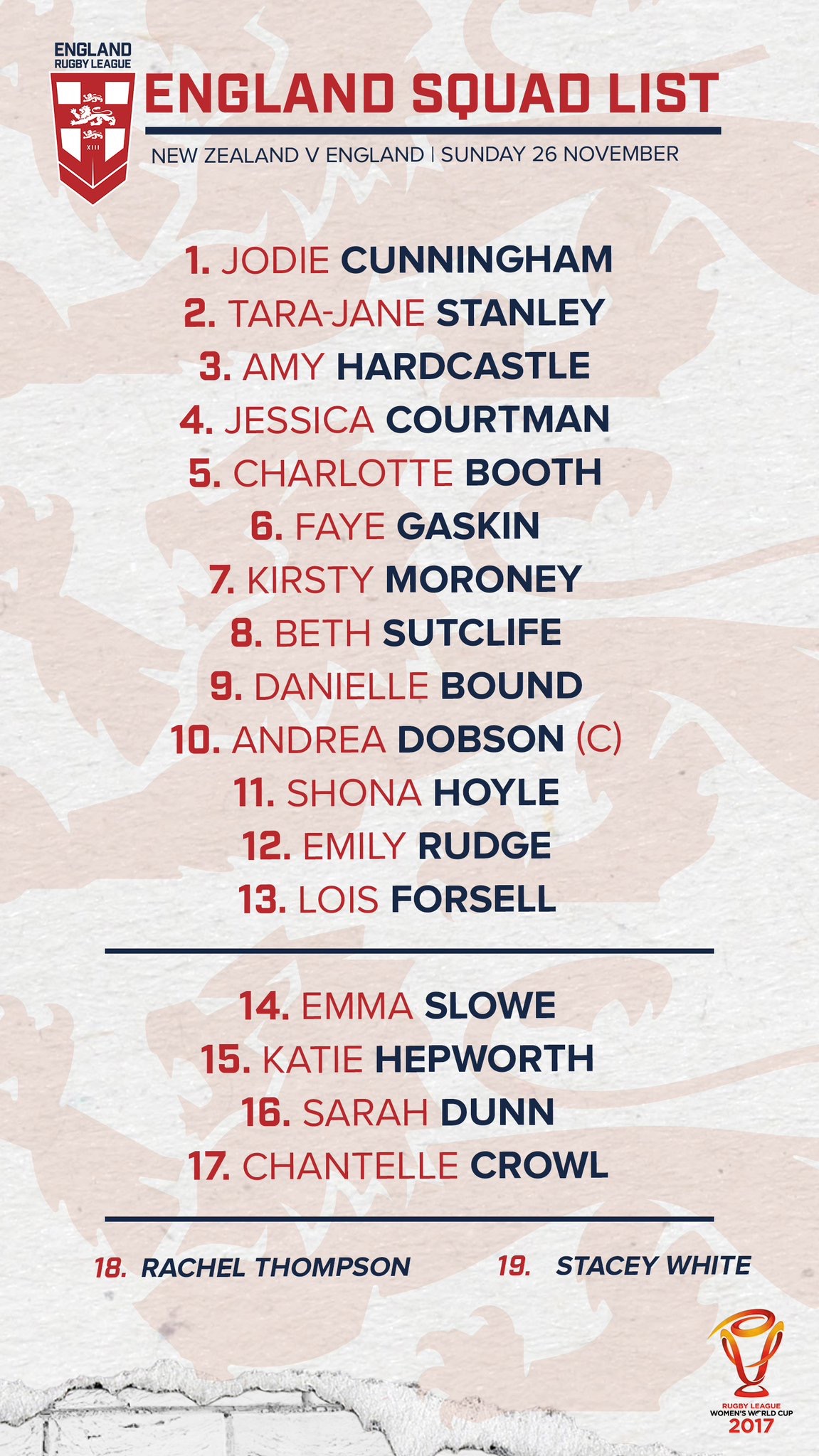 New Zealand
1. Apii Nicholls- Pualau
2. Atawhai Tupaea
3. Maitua Feterika
4. Shontelle Woodman
5. Honey Hireme
6. Georgia Hale
7. Kimiora Nati
8. Aieshaleigh Smalley
9. Krystal Rota
10. Lileta Maumau
11. Teuila Fotu Moala
12. Hilda Peters
13. Laura Mariu
14. Nita Maynard
15. Annetta-Claudia Nuuausala
16. Krystal Murray
17. Ngatokotoru Arakua