Every rugby league club has something distinctive, something special, something different that no other team can offer.  At the same time, there are features that you'll find at most venues.  Some aspects are tangible, while some are just a 'feeling' you get.
It's the combination of these factors that create the whole game-day experience, and Toronto's mix seems to be creating something unique that visiting supporters praise, and keeps home fans coming back.
10. The warm welcome!
It doesn't matter what team you're there to support, everyone wants to make sure you feel right at home.  Show up in the opponent's jersey, and expect some Wolfpack fans to say hello, inquire about your trip, and thank you for coming.  Don't be surprised if they tell you about a family member of theirs, going way back, who was from the same area.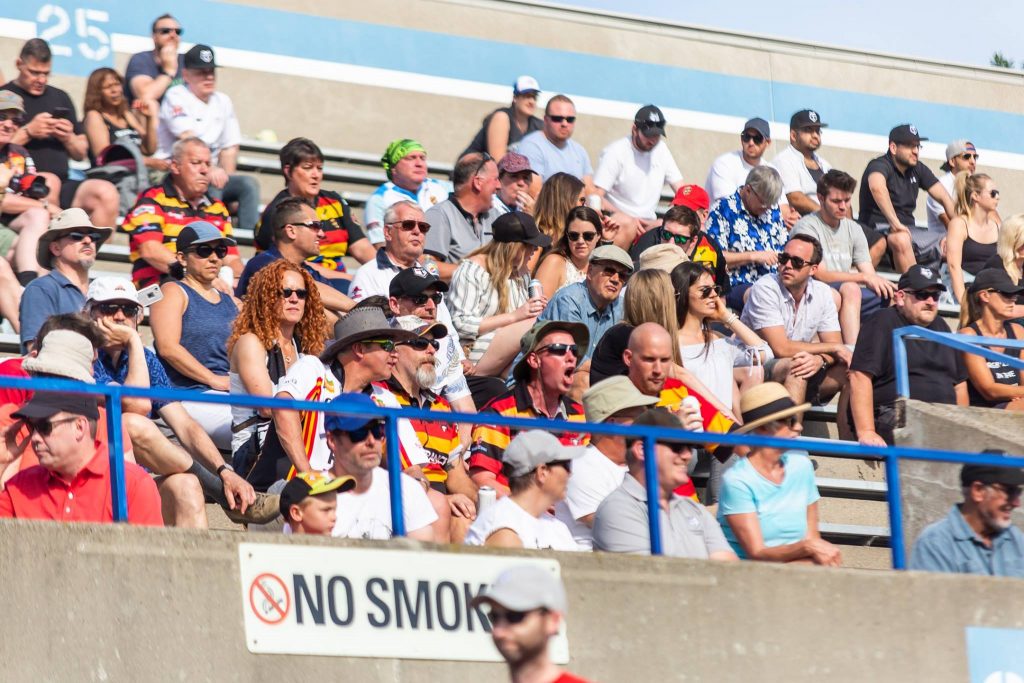 Mention that it's your first match, or that you're unclear on some of the rules of the game, and you'll find that complete strangers take the time to explain what's going on, and encourage you to come back; and to tell your friends, too!
The welcome extends to the pre-game anthems as well, something English visitors find unusual in a match not played between national sides.  God Save The Queen, followed by O Canada, with Canadians in the crowd happily singing both, and those above a certain age will remember singing both at the start of every day in school.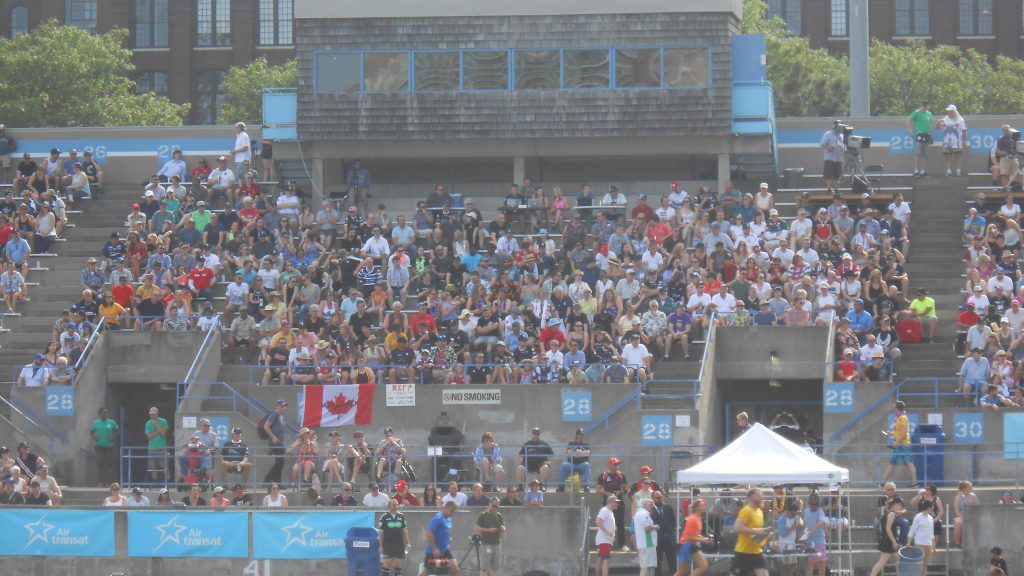 Even some of the Wolfpack are starting to have a go at O Canada, and it endears the team to the crowd.  You don't often see the 'foreign' players on the other Toronto teams singing it.
9. Party at the Den
The music starts pumping well before the kick-off, and continues for several hours after the match as well.  During the game you'll hear snippets of songs after every try, and during stoppages in play.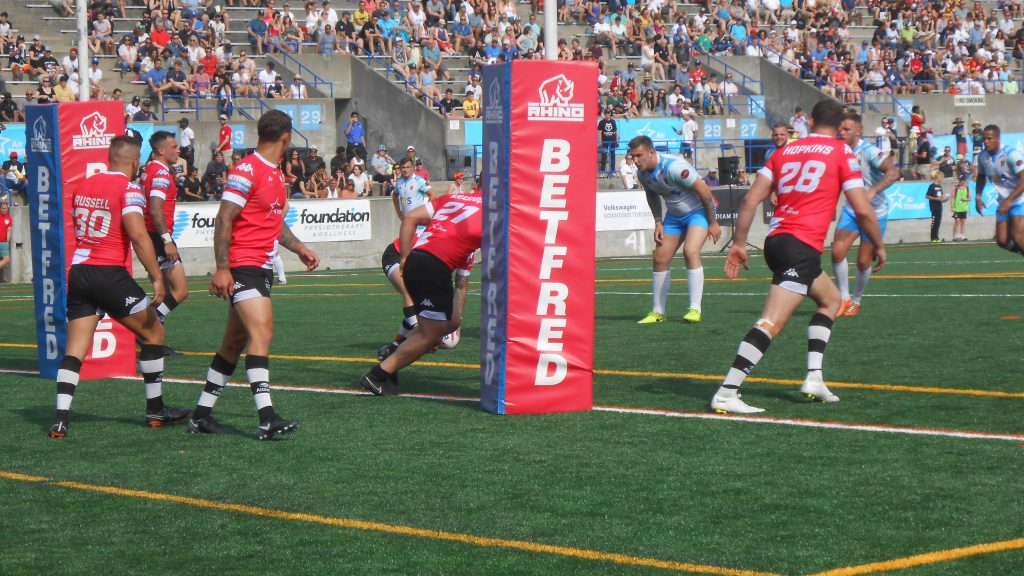 The cheerleaders wander through the stands, and will do a routine on the spot when the music starts.  Perhaps they'll be joined by Jefferson, the Wolfpack's mascot, or encourage some fans to join them.
What really sets the Toronto experience apart is the famous Beer Garden.  A variety of craft beer, ciders, and cocktails are available, along with some barbecued food, the opportunity to watch the match at field level, mingle with other fans, and stay to socialise after the game is over.
The players and staff of both teams, as well as the match officials, come out to join in after they've had a chance to shower and change.  Fans appreciate the opportunity to ask a few questions, take a few pictures, and enjoy a drink and some good music with the people they just saw giving it their all on the field.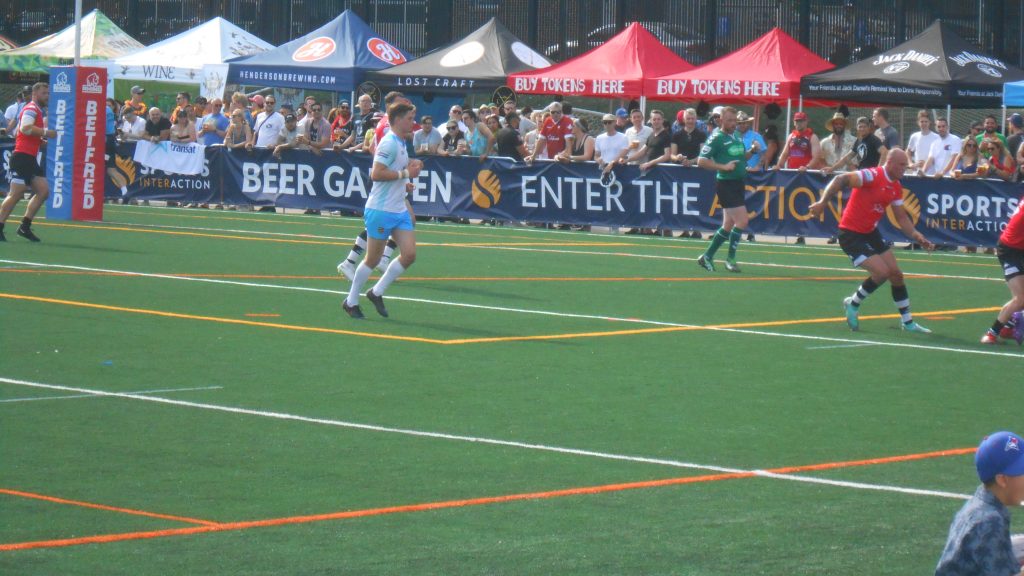 8. T-shirts, hot dogs, beach balls, and kids
During half-time, you'll see a variety of different things on the pitch.  From the Toronto Wolfpack cheerleaders / dance team, to a pipe band, to kids being given the opportunity to try some rugby league skills.
Cricket was given an introduction to many Canadians at one match, as fans bowled in tennis balls and a batsman pounded them into the stands as souvenirs.
On "Beach Day" a number of beach balls were sent into the stands, being bounced around by fans clearly having a good time.  Last season the hot dog cannon proved a hit, and this year a giant slingshot is used to fire off T-shirts to an enthusiastic and appreciative crowd.
Every match has something different, and it's always fun.  The key is fan participation.  You can sit and passively observe if that's what you prefer, but it's hard not to take part.
7. "Hit the streetcar!"
Fans at every team have their chants and shouts, but Toronto's are a little different.  If "Get 'em onside!" is what you're used to, you won't hear that at Lamport.
Conversions kicked at the north end, especially if they're in the middle of the field, have every possibility of leaving the grounds and landing on King Street.  Or on something driving on this busy street.
Streetcars (trams) come by every two or three minutes, so as a kick is being lined up, you're likely to hear "Hit the streetcar!" and a raucous cheer if that happens, or a collective "Oh!" if some poor driver gets the fright of their life.  Even the venue announcer gets in on it, letting the crowd know if a streetcar was tagged.
Toronto's audience are just as likely to applaud good play by either side, including tackles, hits, tries and conversions, and the shouts from the stands are always in good fun.
6. Excuse me, pardon me, I'm sorry …
It's a stereotype that Canadians are always polite, and they are secretly quite proud of this while outwardly denying it's true (politely), and you'll find this at Wolfpack matches.  A newcomer to a match accidentally bumped into a fan, causing him to spill his beer – and the man apologised to the newcomer for standing in a poor location and being in the way.  True story.
Abusive fans and loud swearing, if they ever happen, are dealt with by the crowd themselves who remind the offenders that there are children present, and to tone it down.  That's all it takes.  Canadians pride themselves on taking their sports seriously, but going to a game is a family event.
The Wolfpack announce prior to the match that it's a family-friendly atmosphere, and foul language will result in a person being ejected from the game.
Wolfpack players, opponents, and match officials have all noted that the shouts from the crowd are clean, in good fun, and never abusive.  In fact, some Toronto regulars have taken to good-naturedly shouting "The Referee's consistent!" which always brings smiles to the crowd and the match crew.
Read the top five reasons why Toronto has the best gameday experience on page 2!