Knock On Effect Cup (NSW) News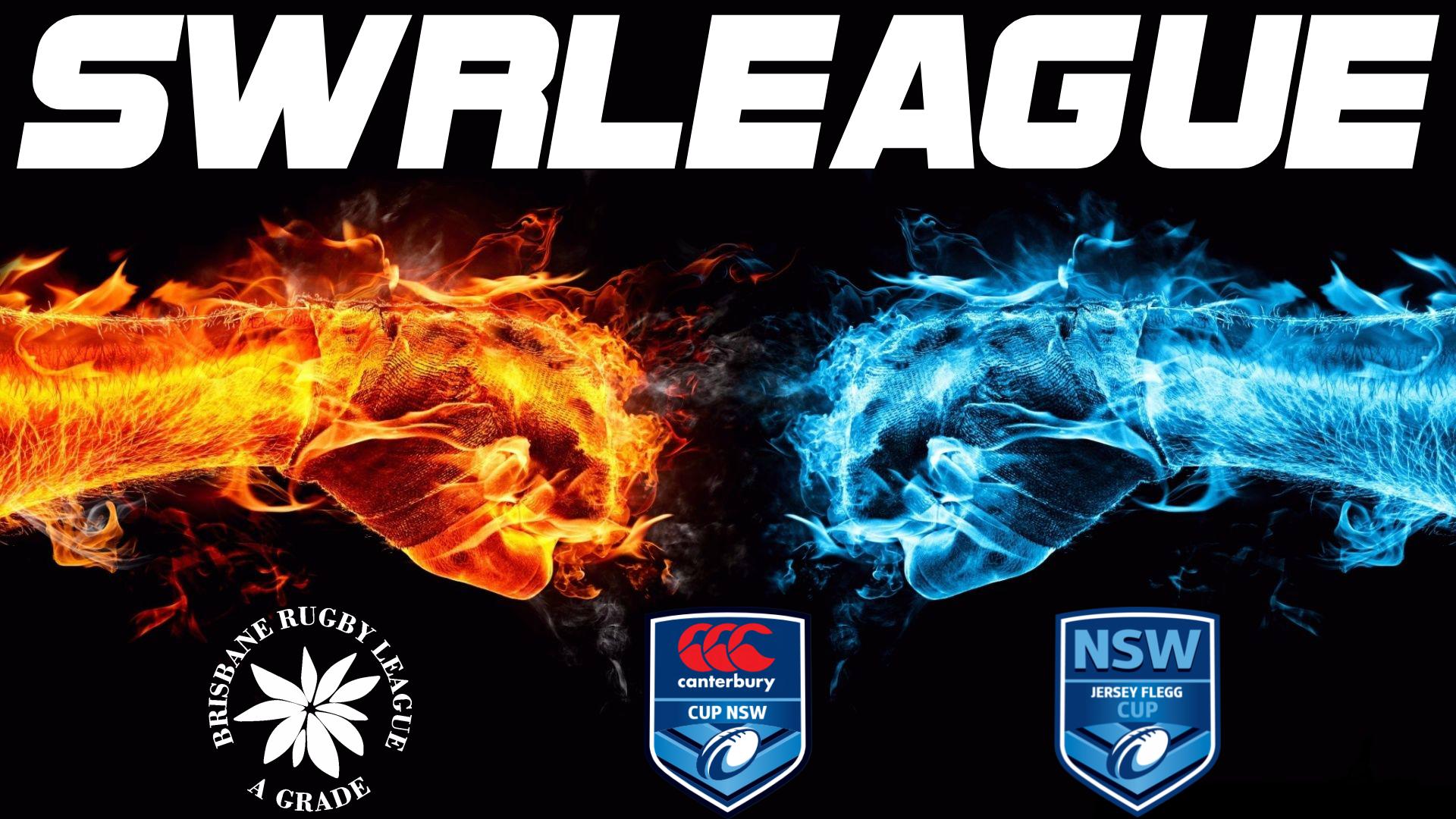 Apparel giant Canterbury was announced as the sponsor of the NSW Cup.
They have taken over the sponsorship from Intrust Super after a three-year association with the competition.
In further news, the new Western Sydney Stadium will host the Grand Final in September for the next five-years.
South Sydney Rabbitohs come into the competition after their affiliation with North Sydney Bears ended last year. The Bears are now affiliated with NRL premiers Sydney Roosters after they severed ties with the Wyong Roos.
Channel Nine will have their Canterbury Cup NSW match of the day televised on a Sunday afternoon.
SWR Sports will cover live Canterbury Cup NSW during the 2019 season.
Date
Home
Time/Results
Away
Venue
Status
2019-03-15 14:45:00March 15, 2019
Knights
24 - 4
Newtown Jets
Recap
2019-03-15 18:00:00March 15, 2019
Mounties
28 - 28
Dragons
Recap
2019-03-16 09:45:00March 16, 2019
Warriors
14 - 19
Bulldogs
Recap
2019-03-16 14:15:00March 16, 2019
Wests Magpies
23 - 4
Blacktown Sea Eagles
Recap
2019-03-17 12:10:00March 17, 2019
Rabbitohs
12 - 14
North Sydney Bears
Recap
2019-03-17 12:50:00March 17, 2019
Panthers
22 - 12
Wentworthville Magpies
Recap
2019-03-23 11:45:00March 23, 2019
Newtown Jets
16 - 32
Mounties

Shark Park

455 Captain Cook Dr, Woolooware NSW 2230, Australia

Recap
2019-03-23 13:00:00March 23, 2019
Rabbitohs
24 - 20
Dragons
Recap
2019-03-23 14:15:00March 23, 2019
Knights
4 - 20
Panthers
Recap
2019-03-23 16:20:00March 23, 2019
Blacktown Sea Eagles
12 - 22
North Sydney Bears
Recap
2019-03-24 12:10:00March 24, 2019
Bulldogs
22 - 24
Wentworthville Magpies
Recap
2019-03-24 14:55:00March 24, 2019
Wests Magpies
48 - 10
Warriors
Recap
2019-03-30 11:45:00March 30, 2019
Panthers
26 - 24
Dragons
Recap
2019-03-30 14:00:00March 30, 2019
Mounties
36 - 12
Knights
Recap
2019-03-31 12:00:00March 31, 2019
Blacktown Sea Eagles
18 - 18
Warriors
Recap
2019-03-31 12:10:00March 31, 2019
Rabbitohs
28 - 26
Newtown Jets
Recap
2019-03-31 12:50:00March 31, 2019
Wests Magpies
24 - 26
Bulldogs
Recap
2019-03-31 14:00:00March 31, 2019
Wentworthville Magpies
20 - 21
North Sydney Bears
Recap
2019-04-06 10:00:00April 6, 2019
Warriors
22 - 12
Panthers
Recap
2019-04-06 11:45:00April 6, 2019
Blacktown Sea Eagles
32 - 12
Rabbitohs
Recap
2019-04-07 13:10:00April 7, 2019
North Sydney Bears
42 - 0
Bulldogs
Recap
2019-04-07 15:00:00April 7, 2019
Mounties
52 - 6
Wests Magpies
Recap
2019-04-07 15:00:00April 7, 2019
Wentworthville Magpies
42 - 10
Newtown Jets
Recap
2019-04-07 15:55:00April 7, 2019
Knights
16 - 34
Dragons
Recap
2019-04-13 11:00:00April 13, 2019
Warriors
14 - 18
Rabbitohs
Recap
2019-04-13 12:45:00April 13, 2019
Knights
16 - 14
Blacktown Sea Eagles
Recap
2019-04-13 15:00:00April 13, 2019
Newtown Jets
32 - 30
North Sydney Bears
Recap
2019-04-14 13:10:00April 14, 2019
Wests Magpies
32 - 12
Panthers
Recap
2019-04-14 13:50:00April 14, 2019
Dragons
28 - 14
Bulldogs
Recap
2019-04-14 15:55:00April 14, 2019
Mounties
32 - 16
Wentworthville Magpies
Recap
2019-04-19 15:00:00April 19, 2019
North Sydney Bears
22 - 10
Knights
Recap
2019-04-20 15:15:00April 20, 2019
Bulldogs
6 - 36
Rabbitohs
Recap
2019-04-20 17:15:00April 20, 2019
Dragons
44 - 6
Blacktown Sea Eagles
Recap
2019-04-21 13:10:00April 21, 2019
Newtown Jets
16 - 18
Panthers
Recap
2019-04-21 13:50:00April 21, 2019
Mounties
28 - 22
Warriors
Recap
2019-04-22 13:30:00April 22, 2019
Wentworthville Magpies
20 - 14
Wests Magpies
Recap
2019-04-26 17:45:00April 26, 2019
Panthers
20 - 18
Rabbitohs
Recap
2019-04-26 19:30:00April 26, 2019
North Sydney Bears
24 - 50
Dragons
Recap
2019-04-27 15:15:00April 27, 2019
Bulldogs
22 - 16
Warriors
Recap
2019-04-28 11:50:00April 28, 2019
Blacktown Sea Eagles
22 - 44
Mounties
Recap
2019-04-28 13:10:00April 28, 2019
Wests Magpies
30 - 22
Newtown Jets
Recap
2019-04-28 13:50:00April 28, 2019
Knights
24 - 20
Wentworthville Magpies
Recap
2019-05-04 12:45:00May 4, 2019
Blacktown Sea Eagles
10 - 38
Bulldogs
Recap
2019-05-04 15:00:00May 4, 2019
Newtown Jets
26 - 24
Rabbitohs
Recap
2019-05-05 11:45:00May 5, 2019
Warriors
28 - 12
Knights
Recap
2019-05-05 13:10:00May 5, 2019
North Sydney Bears
18 - 6
Wests Magpies
Recap
2019-05-05 13:50:00May 5, 2019
Wentworthville Magpies
30 - 14
Dragons
Recap
2019-05-05 15:00:00May 5, 2019
Mounties
22 - 30
Panthers
Recap
2019-05-18 10:50:00May 18, 2019
Bulldogs
10 - 10
Wests Magpies
Recap
2019-05-18 12:45:00May 18, 2019
Panthers
28 - 10
Warriors
Recap
2019-05-18 15:00:00May 18, 2019
Mounties
32 - 18
Rabbitohs
Recap
2019-05-19 11:00:00May 19, 2019
North Sydney Bears
34 - 20
Wentworthville Magpies
Recap
2019-05-19 13:10:00May 19, 2019
Newtown Jets
44 - 28
Blacktown Sea Eagles
Recap
2019-05-19 15:30:00May 19, 2019
Dragons
32 - 6
Knights
Recap
2019-05-24 17:40:00May 24, 2019
Knights
32 - 14
North Sydney Bears
Recap
2019-05-25 10:45:00May 25, 2019
Warriors
20 - 6
Blacktown Sea Eagles
Recap
2019-05-26 11:45:00May 26, 2019
Bulldogs
52 - 22
Mounties
Recap
2019-05-26 13:10:00May 26, 2019
Rabbitohs
18 - 30
Wests Magpies
Recap
2019-05-26 13:50:00May 26, 2019
Dragons
22 - 36
Newtown Jets
Recap
2019-05-26 15:00:00May 26, 2019
Wentworthville Magpies
16 - 12
Panthers
Recap
2019-06-01 13:00:00June 1, 2019
Newtown Jets
20 - 20
Warriors
Recap
2019-06-01 15:00:00June 1, 2019
Panthers
28 - 16
Blacktown Sea Eagles
Recap
2019-06-01 17:20:00June 1, 2019
Bulldogs
20 - 18
Knights
Recap
2019-06-02 13:10:00June 2, 2019
Dragons
22 - 22
Wests Magpies
Recap
2019-06-02 15:00:00June 2, 2019
Wentworthville Magpies
14 - 20
Rabbitohs
Recap
2019-06-02 15:00:00June 2, 2019
North Sydney Bears
24 - 14
Mounties
Recap
2019-06-08 12:45:00June 8, 2019
Warriors
6 - 28
Dragons
Recap
2019-06-08 14:00:00June 8, 2019
Rabbitohs
26 - 6
Knights
Recap
2019-06-08 15:00:00June 8, 2019
Wests Magpies
12 - 18
Mounties
Recap
2019-06-08 15:00:00June 8, 2019
Newtown Jets
22 - 10
Wentworthville Magpies
Recap
2019-06-09 13:10:00June 9, 2019
Bulldogs
30 - 20
Blacktown Sea Eagles
Recap
2019-06-09 13:50:00June 9, 2019
Panthers
32 - 0
North Sydney Bears
Recap
2019-06-15 11:00:00June 15, 2019
Warriors
26 - 16
Wentworthville Magpies
Recap
2019-06-15 12:45:00June 15, 2019
Bulldogs
42 - 16
North Sydney Bears
Recap
2019-06-15 15:00:00June 15, 2019
Mounties
20 - 20
Newtown Jets
Recap
2019-06-15 15:15:00June 15, 2019
Rabbitohs
36 - 16
Panthers
Recap
2019-06-16 13:10:00June 16, 2019
Wests Magpies
16 - 12
Knights
Recap
2019-06-16 15:00:00June 16, 2019
Blacktown Sea Eagles
14 - 20
Dragons
Recap
2019-06-29 12:45:00June 29, 2019
Dragons
24 - 22
Panthers
Recap
2019-06-30 13:00:00June 30, 2019
North Sydney Bears
10 - 32
Warriors
Recap
2019-06-30 13:10:00June 30, 2019
Wests Magpies
16 - 34
Rabbitohs
Recap
2019-06-30 13:50:00June 30, 2019
Bulldogs
40 - 28
Newtown Jets
Recap
2019-06-30 15:00:00June 30, 2019
Wentworthville Magpies
38 - 34
Mounties
Recap
2019-06-30 15:00:00June 30, 2019
Blacktown Sea Eagles
36 - 20
Knights
Recap
2019-07-06 14:00:00July 6, 2019
Rabbitohs
30 - 18
Mounties
Recap
2019-07-06 15:00:00July 6, 2019
Newtown Jets
24 - 18
Dragons
Recap
2019-07-06 15:00:00July 6, 2019
Wentworthville Magpies
22 - 16
Blacktown Sea Eagles
Recap
2019-07-06 17:20:00July 6, 2019
Knights
12 - 0
Warriors
Recap
2019-07-07 13:10:00July 7, 2019
Wests Magpies
10 - 32
North Sydney Bears
Recap
2019-07-07 15:00:00July 7, 2019
Panthers
28 - 18
Bulldogs
Recap
2019-07-12 17:40:00July 12, 2019
Knights
8 - 12
Bulldogs
Recap
2019-07-13 12:45:00July 13, 2019
Rabbitohs
22 - 30
Blacktown Sea Eagles
Recap
2019-07-14 13:10:00July 14, 2019
North Sydney Bears
22 - 8
Newtown Jets
Recap
2019-07-14 13:50:00July 14, 2019
Wests Magpies
20 - 26
Wentworthville Magpies
Recap
2019-07-14 15:45:00July 14, 2019
Dragons
24 - 18
Mounties
Recap
2019-07-20 10:00:00July 20, 2019
Warriors
34 - 8
Newtown Jets
Recap
2019-07-20 12:45:00July 20, 2019
Panthers
22 - 30
Knights
Recap
2019-07-21 13:10:00July 21, 2019
Wests Magpies
24 - 24
Dragons
Recap
2019-07-21 13:10:00July 21, 2019
North Sydney Bears
28 - 24
Blacktown Sea Eagles
Recap
2019-07-27 12:45:00July 27, 2019
Wentworthville Magpies
22 - 28
Warriors
Recap
2019-07-27 15:00:00July 27, 2019
Knights
22 - 30
Wests Magpies
Recap
2019-07-27 15:00:00July 27, 2019
Newtown Jets
32 - 12
Bulldogs
Recap
2019-07-28 13:10:00July 28, 2019
Dragons
22 - 25
Rabbitohs
Recap
2019-07-28 13:50:00July 28, 2019
Panthers
24 - 14
Mounties
Recap
2019-08-03 11:00:00August 3, 2019
Warriors
34 - 22
Mounties
Recap
2019-08-03 12:45:00August 3, 2019
Blacktown Sea Eagles
26 - 24
Newtown Jets
Recap
2019-08-03 15:15:00August 3, 2019
Bulldogs
26 - 22
Panthers
Recap
2019-08-04 13:10:00August 4, 2019
North Sydney Bears
24 - 31
Rabbitohs
Recap
2019-08-04 13:50:00August 4, 2019
Dragons
36 - 16
Wentworthville Magpies
Recap
2019-08-09 17:40:00August 9, 2019
Panthers
18 - 28
Newtown Jets
Recap
2019-08-10 12:45:00August 10, 2019
Dragons
22 - 18
North Sydney Bears
Recap
2019-08-10 15:15:00August 10, 2019
Wentworthville Magpies
6 - 12
Knights
Recap
2019-08-11 13:10:00August 11, 2019
Mounties
26 - 14
Bulldogs
Recap
2019-08-11 13:50:00August 11, 2019
Rabbitohs
32 - 30
Warriors
Recap
2019-08-11 15:00:00August 11, 2019
Blacktown Sea Eagles
30 - 20
Wests Magpies
Recap
2019-08-17 12:45:00August 17, 2019
Knights
14 - 36
Mounties
Recap
2019-08-17 17:20:00August 17, 2019
Rabbitohs
24 - 36
Bulldogs
Recap
2019-08-18 10:05:00August 18, 2019
Warriors
6 - 22
North Sydney Bears
Recap
2019-08-18 13:10:00August 18, 2019
Panthers
24 - 18
Wests Magpies
Recap
2019-08-18 15:00:00August 18, 2019
Blacktown Sea Eagles
28 - 46
Wentworthville Magpies
Recap
2019-08-24 12:45:00August 24, 2019
Newtown Jets
42 - 14
Wests Magpies
Recap
2019-08-24 15:00:00August 24, 2019
Wentworthville Magpies
28 - 20
Bulldogs
Recap
2019-08-24 17:15:00August 24, 2019
Dragons
28 - 0
Warriors
Recap
2019-08-25 13:10:00August 25, 2019
North Sydney Bears
42 - 24
Panthers
Recap
2019-08-25 13:30:00August 25, 2019
Knights
4 - 32
Rabbitohs
Recap
2019-08-25 13:50:00August 25, 2019
Mounties
30 - 26
Blacktown Sea Eagles
Recap
2019-08-31 11:00:00August 31, 2019
Warriors
24 - 20
Wests Magpies
Recap
2019-08-31 12:45:00August 31, 2019
Bulldogs
22 - 24
Dragons
Recap
2019-08-31 15:00:00August 31, 2019
Mounties
6 - 19
North Sydney Bears
Recap
2019-08-31 15:00:00August 31, 2019
Newtown Jets
34 - 22
Knights
Recap
2019-08-31 16:00:00August 31, 2019
Rabbitohs
16 - 26
Wentworthville Magpies
Recap
2019-09-01 13:10:00September 1, 2019
Blacktown Sea Eagles
42 - 34
Panthers
Recap
2019-09-07 10:45:32September 7, 2019
Panthers
16 - 34
Wentworthville Magpies
Recap
2019-09-07 12:45:34September 7, 2019
Mounties
20 - 42
Newtown Jets
Recap
2019-09-08 13:10:30September 8, 2019
Dragons
24 - 22
Bulldogs
Recap
2019-09-08 15:15:33September 8, 2019
Rabbitohs
32 - 12
North Sydney Bears
Recap
2019-09-14 13:05:49September 14, 2019
Bulldogs
20 - 26
Wentworthville Magpies
Recap
2019-09-15 12:10:08September 15, 2019
North Sydney Bears
28 - 30
Newtown Jets
Recap
2019-09-21 15:05:59September 21, 2019
Rabbitohs
10 - 35
Wentworthville Magpies
Recap
2019-09-22 15:10:05September 22, 2019
Dragons
20 - 22
Newtown Jets
Recap