BETTING TIPS Round 16 | Friday Night – Dragons vs Titans, Roosters vs Broncos
Here is the betting and stats preview for the Friday night action for Round 16 opener featuring the Dragons v Titans and the Seibold-free Broncos v Roosters.
Reproduced with permission from TheGurgler.com
ST GEORGE ILLAWARRA DRAGONS Vs GOLD COAST TITANS
The Dragons need to find some wins to keep their top eight hopes alive at the expense of their Shire rivals, while Gold Coast need to keep winning to maintain their superiority over their geographic rivals. Although, they could also lose every game until the end of the season for the same result.
QUICK MATCH FACTS
St George Illawarra have lost just once in their last 12 games versus Queensland opponents.
Gold Coast have one win in 16 versus Sydney clubs.
Titans lead the Head-to-Head on a Friday 4-3. And have a decent 50% winning record at Kogarah.
Dragons have won just two of their last ten games at Kogarah.
St George Illawarra have also scored 110 points in their last four games at Kogarah and won only once.
Titans have won only three of their 10 Friday matches across the last two seasons. The Dragons are three from eight over the same period but have won their last two Friday games.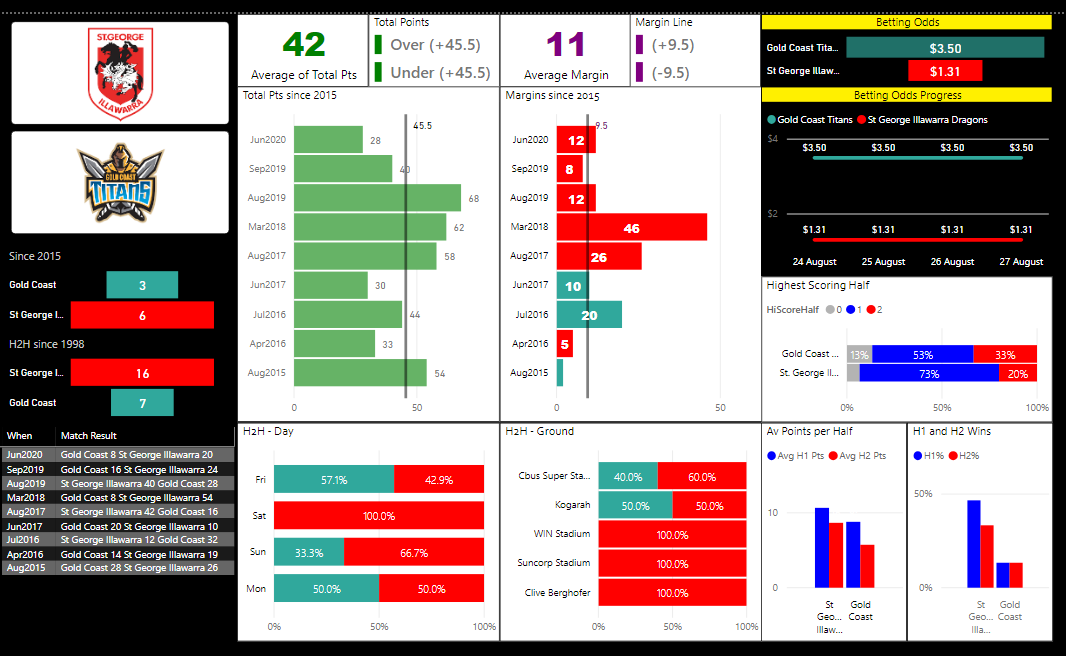 The total points market looks interesting at 45.5. While the two last games total points tally has been under that mark, the three games preceding were well over. The Dragons have averaged over 27 points in their last four games at Kogarah.
Gold Coast have averaged 23.5 in their last four games at Kogarah. So the over 45.5 is looking okay.
St George Illawarra have scored more points in the first half 73% this season, and with the Titans also over 50%, take the highest scoring half option.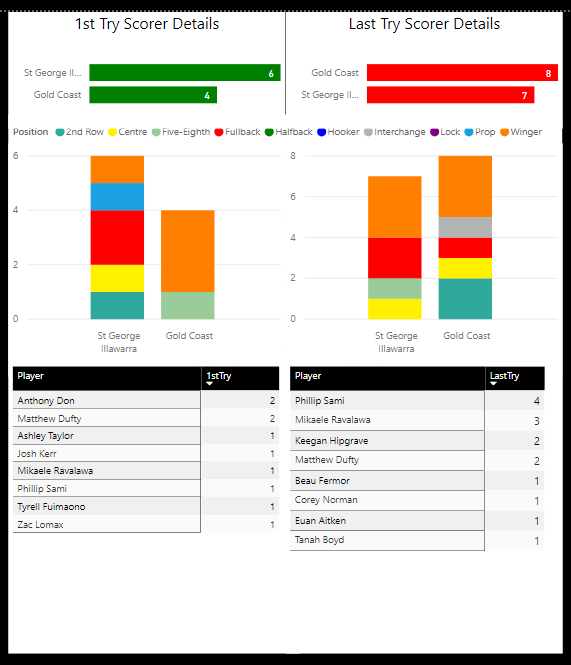 Gold Coast have scored the first try four times this season, which is the worst strike rate in the competition.
The Titans do move up to solid midfield for last try scored, having been last to score eight times in their 15 matches so far, equal to the Roosters and Souths.
St George are only just ahead for first try scorer with six, and reckon Matt Dufty is the main to do the deed this time.,
Hard to go past Phillip Sami for last try scorer or Mikaele Ravalawa.
THE FINAL SAY SAME GAME MULTI
Gold Coast +9.5 start
Total Points Over 45.5
Philip Sami to score a second half try
First Half – Higher Scoring Half
@ $26
GAMBLE RESPONSIBLY: Gambling Help Online – https://www.gamblinghelponline.org.au/
ROUND 16 PREVIEW | St. George Illawarra Dragons Vs Gold Coast Titans
Next Page: Sydney Roosters vs Brisbane Broncos