BETTING TIPS | South Sydney Rabbitohs Vs Newcastle Knights
Here is the betting and stats preview for the knockout finals clash between South Sydney and Newcastle.
SOUTH SYDNEY RABBITOHS Vs NEWCASTLE KNIGHTS
Both these teams are reasonably hot and cold and filled with gamebreakers that this match is hard to judge with any great confidence. 60 points against their beloved rivals last weekend, and Newcastle's loss to the Titans swings the momentum in Souths favour.
QUICK MATCH FACTS
The away side has won the last five matches between Souths and Newcastle.
Newcastle hold a 57%-43% advantage over Souths on a Sunday.
Souths have won 20 of their last 22 matches on a Sunday against NSW opposition.
BETTING FACTS
Newcastle have drifted out in betting from $3.25 to $3.40 then to $3.50 while Souths have moved have come in to $1.31 from $1.35.
Three of the last four games have been under the 8.5 margin.
Souths scored more points in the first half 65% of the time this season and Newcastle 50%, with 10% for draws each. So taking the first half as highest scoring half seems sensible and value.
Although Souths scored a pile of points last weekend, the last two matches v Newcastle where Souths have been the home side have been under the 44.5 total point line.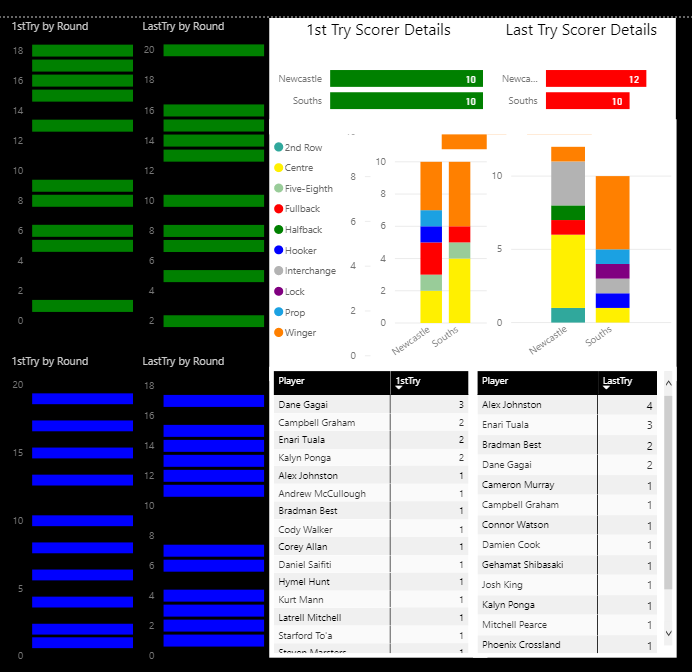 TRY SCORING
Newcastle appear to have a nice little pattern of scoring the first try every second week, so after their surrender to the Titans the previous week, it opens up the opportunity for that pattern to continue. Although Souths had been in hot first try scoring form before the inevitable Morris brother first try against the Roosters.
Centres have scored the first try against Souths five times this season, with Enari Tuala is good try scoring form in general, and crossing first twice as well this year, he could be the player to back for first try.
On the ten occasions that Souths have conceded first, the opposition player has come from either Fullback, Wing, or Centre.
With Alex Johnston not going for the try scoring record, he may not be gifted as many late tries as per the Roosters game, but he does lead the Rabbitohs v Knight last try scoring table. In saying that, he is a still a great shout for last try.
Enari Tuala has scored the last try a few times this season, and also scores tries late in the game. Like against the Dragons in Round 19 where he crossed second last.
Taking either of the two above seems a wise investment. Newcastle haven't scored the last try since Round 16, and Souths only once since then.
THE FINAL SAY SAME GAME MULTI
Souths to Win
Alex Johnston to score 2+ Tries
Total Points – Under 43.5
First Half – Highest Scoring Half
Enari Tuala – Last Newcastle Try Scorer
@ $226
GAMBLE RESPONSIBLY: Gambling Help Online – https://www.gamblinghelponline.org.au/
Odds correct as of 3:00pm 1st Oct