2020 NRL-W Round 3 Preview and Tips
The Grand Final spots may already be locked up, but a preview to next week's decider and a fight to avoid the wooden spoon set this round for two unmissable games.
Dragons v Warriors, Saturday 12.30pm at ANZ Stadium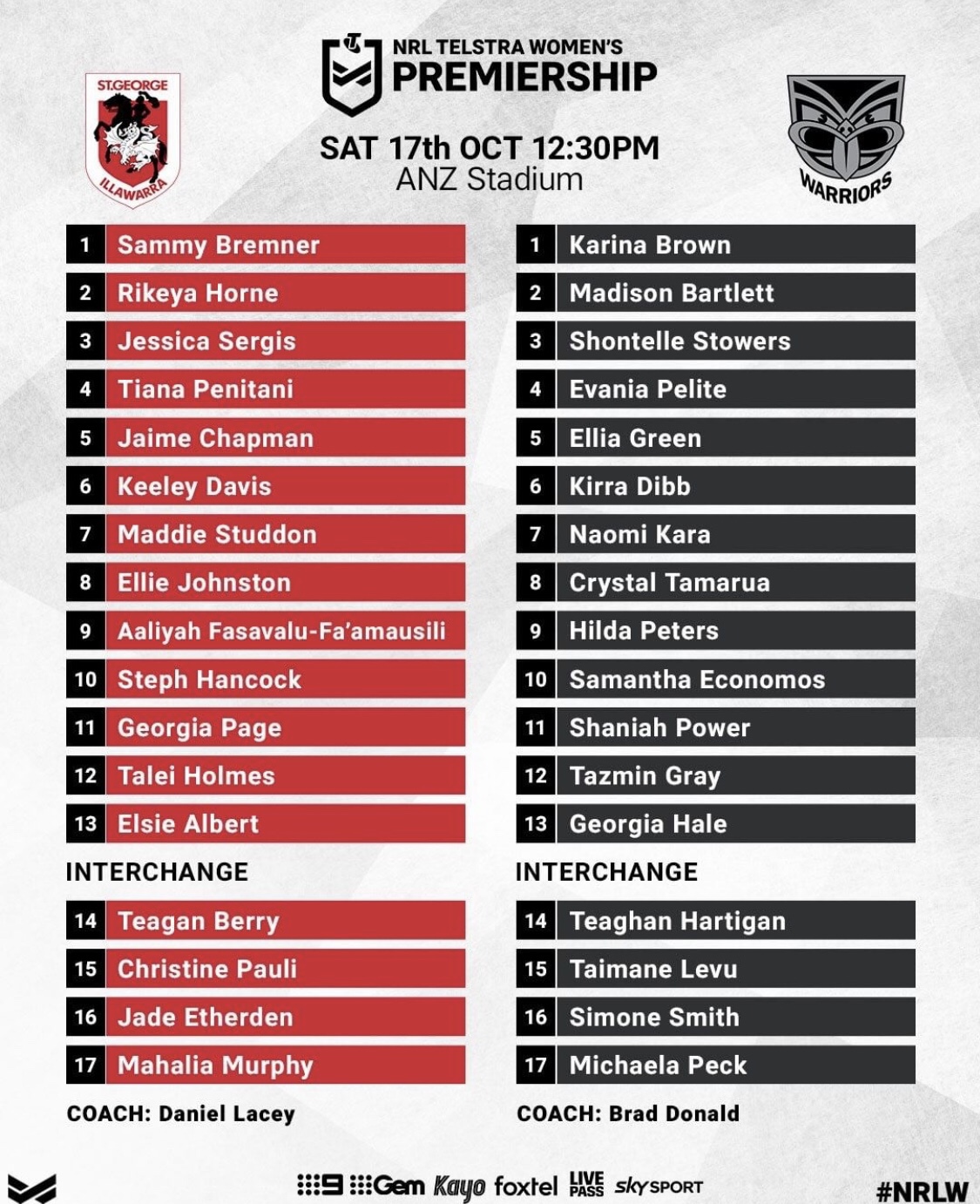 With both teams remaining winless so far this season, this game will be a fight to avoid the dreaded wooden spoon.
The Dragons have had a disappointing NRL-W campaign in 2020, worsened by a long list of injuries. They have previously won all games against the Warriors, but a win in this game could somewhat soften the blow of the 2020 season.
Starting second-row pairing Kezie Apps and Shaylee Bent are both out due to injury and suspension, their places taken by Georgia Page and Talei Holmes. Isabelle Kelly is also out due to ankle injury, resulting in Tiana Penitani moving to the centres and Rikeya Horne joining the team. Keeley Davis and Aaliyah Fasavalu-Fa'amausili swap at hooker and five-eighth, with Jess Sergis and Maddie Studdon have both been named despite injury concerns. Jade Etherden and Teagan Berry join the bench, while Shakiah Tungai named in the reserves for a possible return.
The Warriors have also had an underwhelming start to the season, though they're sitting just above the Dragons by four points differential.
Naomi Kara starts at halfback with Simone Smith benched. Kayla Sauvao, Kanyon Paul and Brianna Clark have dropped out of the side with Teaghan Hartigan and Taimane Levu named on the bench. Hilda Peters moves from the second row to hooker, her place taken by Shaniah Power.
Last Time They Met: Round 2, 2019. The Dragons kept their grand final hopes alive with a 26 – 6 win.
My Prediction: The Warriors have scored 18 more points than the Dragons this year but their defence will make or break them, having conceded 50 points in two games. If they can continue scoring points but tighten their defence, they should be able to finish in third. I think the Warriors will win it by 10.
Roosters v Broncos, Saturday 4pm at ANZ Stadium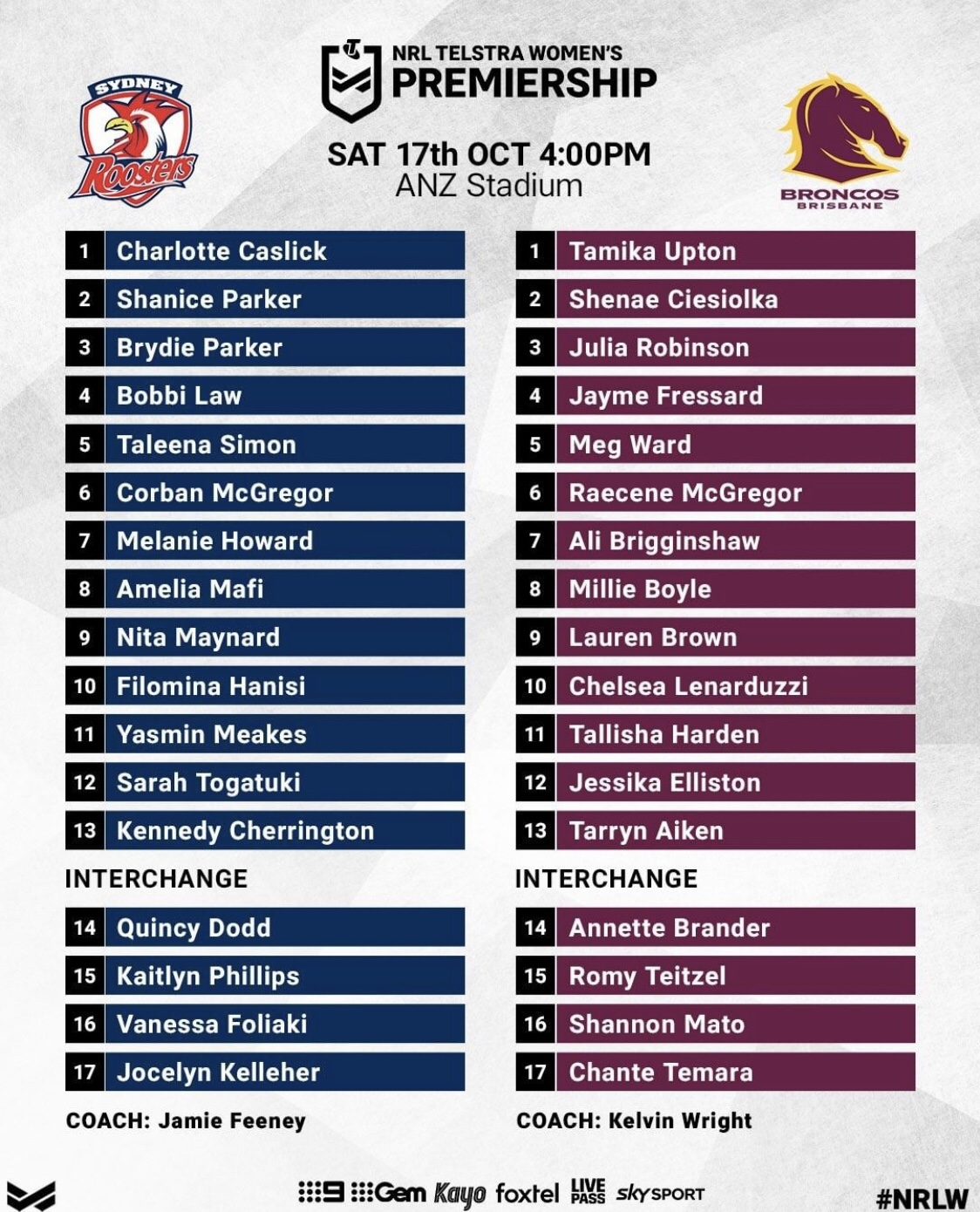 It may be a Grand Final preview but there are several fresh faces in this match.
Roosters coach Jamie Feeney is using this as an experimental match, resting several players and trying new combinations. Stars Zahara Temara, Simaima Taufua and Hannah Southwell have all been rested, with Melanie Howard and Amelia Mafi getting a shot at half and prop. While she is named in the team list, Rugby Union convert Charlotte Caslick has been ruled out for the remainder of the season with back fractures in what is a massive blow to the Roosters. Corbin McGregor is expected to move back to fullback in her place. Brydie Parker moves from wing to centre, Yasmin Meakes switches to the second row, and Taleena Simon starts on the wing. Kennedy Cherrington gets a start at lock and Kaitlyn Phillips is named on the bench.
The Broncos have proved exactly why their premiership favourites again this year, and they're only two games away from a possible threepeat.
Coach Kelvin Wright has only made a few positional changes this week, which is unsurprising considering their great form. Amber Hall has taken a one-week suspension for a dangerous tackle last week and is replaced by Jessica Elliston. Lauren Brown replaces injured hooker Lavinia Gould, with Shenae Ciesiolka starting on the wing. Ali Brigginshaw is starting in the halves as Tarryn Aiken returns to lock. Tamika Upton and Jayme Fressard are named despite injury concerns last week, with Chante Temara and Romy Teitzel joining the bench.
Last Time They Met: Round 2, 2019. The Bronco's thumped the Roosters 20 – 0 to lock in a grand final spot.
My Prediction: While it isn't a bad idea to experiment when the grand final is guaranteed, a fresh-faced Roosters side might not be strong enough against the Broncos. I think Broncos will win by 16.