Best NRL Jerseys for the 2021 season
It's that time of year, where we look at the NRL's 2021 kits. This edition will include home, away, and any alternative jerseys when applicable.
Check out what we thought of the NRL Jerseys for 2020 here.
BRISBANE BRONCOS
HOME: Brisbane's new jersey is a modernised version of their classic strip. It's predominantly maroon, with a handful of horizontal gold stripes topped and tailed by white stripes, and white and gold sleeve bands, topped off with an old-fashioned white collar. It's one of their best home jerseys in years.
AWAY: their away strip echoes their old Super League jersey. It's predominantly white, with maroon and white horizontal lines on the torso and a gold bottom, with a cool 'V' pattern running through it.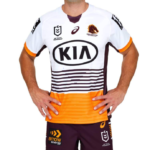 VERDICT: both home and away strips are a vast improvement on recent versions, echoing classic designs.
CANBERRA RAIDERS
HOME: Canberra tend to keep their home jersey pretty simple: lime green with the traditional white, blue, and gold ACT stripes on the arms or chest. Their 2021 jersey is their biggest departure from this formula since the early 2000s. There's blue on the shoulders and chest, a small grey line, and the usual green below that (with Canberra Milk returning as a major sponsor). It's not as popular as their heritage jersey (more on that below), but it could grow on fans.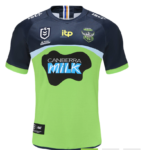 AWAY: the away jersey is similar to the home one, except the green is replaced by a blue/grey colour. It's a bit strange, but usually away jerseys have a bit more license to be different, so that's fine, and it's a departure from the usual white away jerseys.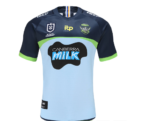 HERITAGE: when Canberra's 2021 jerseys were announced, fans got VERY excited with this one, especially as some though that this classic mid-90s design (complete with the retro Milk logo, which is pure genius by the designers) was the home strip. While it's only the heritage strip, it hasn't stopped fans from snapping up the pre-orders. A petition was even started to change this one to the home jersey. While it won't happen, hopefully the heritage strip gets a few outings; regardless, expect to see a lot of these in the stands at GIO Stadium.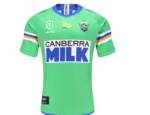 VERDICT: the heritage jersey is the runaway winner here.
CANTERBURY-BANKSTOWN BULLDOGS
HOME: the Bulldogs' home jersey – like the team itself – has received a fresh coat of paint, with blue shoulders, arms, and collar, along with the traditional blue chevrons (with the second V now in full). It's a small change, but it looks nice.
AWAY: the away jersey is a simple colour reversal of the home jersey.
VERDICT: sometimes small changes are the best, and it's enough to convince Bulldogs fans to add them to their collection.
CRONULLA-SUTHERLAND SHARKS
HOME: the home jersey hasn't changed much, with the classic 80s design retained. No need to change something that works so well.
AWAY: the Sharks have gone for a predominantly black look for the away jersey, with a blue fade on the shoulders. It looks good.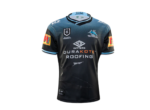 VERDICT: two decent jerseys for the Sharks as they stick to the basics.