Best NRL Jerseys for the 2021 season
GOLD COAST TITANS
HOME: the Titans' strong finish to 2020 has carried over to their new jerseys. The home one has dark blue shoulders, a big yellow stripe on the chest, and a light blue torso. This works because it's kept simple: no shoehorning of awkward sword patterns here.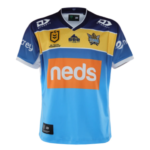 AWAY: the away jersey is just as good – if not better – than the home strip. It's 95% white, with blue shoulders and sides and thin yellow stripes. It's simple and it works.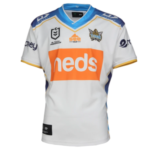 VERDICT: the Titans should push for the finals in 2021, and they'll sure look good doing it.
MANLY-WARRINGAH SEA EAGLES
HOME: no change to Manly's home jersey.
AWAY: no change to their away jersey either, keeping the mid-90s golden era design.
VERDICT: no change.
MELBOURNE STORM
HOME: Melbourne's home jersey is interesting: it's predominantly purple, with a dark blue chevron, and the smaller yellow lines on the chest and arms suggests a throwback to classic designs. It looks more "Melbourne-y" than last year's jersey and is much neater.
AWAY: The Storm haven't released their away jersey yet, though it could be similar to last year's, which they wore in the victorious grand final.
VERDICT: The home jersey is a cleaner update from last year's, falling back on the classic chevrons with a touch of yellow.
NEWCASTLE KNIGHTS
HOME: no change.
AWAY: no change.
VERDICT: no change.