Best NRL Jerseys for the 2021 season
NORTH QUEENSLAND COWBOYS
HOME: the Cowboys' home jersey is great: it's predominantly dark blue, with small grey and yellow horizontal sides and white side panels.
AWAY: a riff on their 25th anniversary jersey, with dark blue shoulders and chest, white below that, and small grey horizontal stripes.
VERDICT: the home jersey's had a nice update, and the away jersey borrows from their classic design.
PARRAMATTA EELS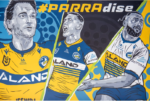 HOME: the Eels' home jersey echoes the 80s, as it's mostly yellow with a solid blue stripe along the chest and blue shoulders.
AWAY: Parramatta have stuck to their late 80s/early 90s strip. A wise choice.
VERDICT: the Eels keep it retro for both home and away.
PENRITH PANTHERS
HOME: virtually no change to Penrith's home jersey.
AWAY: the Pink Panther jersey returns, with a slight update. It's been a solid fan favourite.
HERITAGE: celebrating 30 years since their first premiership, Penrith bring back the original 'licorice allsorts' jersey (with the 1991 NSWRL Grand Final score on the back of the jersey). Like Canberra's heritage jersey, expect the Panthers' version to sell out quickly.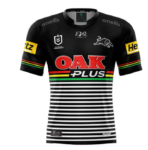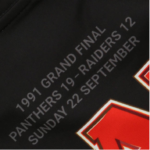 VERDICT: like Canberra's, Penrith's heritage jersey is a standout.
ST. GEORGE-ILLAWARRA DRAGONS
HOME: no change to the classic 'Red V' design.
AWAY: while the away jersey is predominantly red in a nod to the Steelers, there's also a big red V. It's a bit messy, to be honest.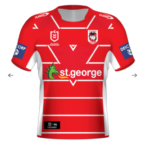 HERITAGE: celebrating their 100th anniversary as the St George Dragons, the heritage strip has simple red and white horizontal stripes.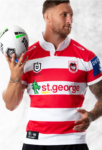 VERDICT: the away jersey is strange, but the heritage jersey makes up for it.