WHAT JERSEY WILL YOUR TEAM WEAR IN 2021?
It's that time of year, where we look at the NRL's 2021 kits. This edition will include home, away, and any alternative jerseys when applicable.
Check out what we thought of the NRL Jerseys for 2020 here.
BRISBANE BRONCOS
HOME: Brisbane's new jersey is a modernised version of their classic strip. It's predominantly maroon, with a handful of horizontal gold stripes topped and tailed by white stripes, and white and gold sleeve bands, topped off with an old-fashioned white collar. It's one of their best home jerseys in years.
AWAY: their away strip echoes their old Super League jersey. It's predominantly white, with maroon and white horizontal lines on the torso and a gold bottom, with a cool 'V' pattern running through it.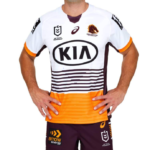 VERDICT: both home and away strips are a vast improvement on recent versions, echoing classic designs.