Bulldogs CEO Aaron Warburton Confident of Success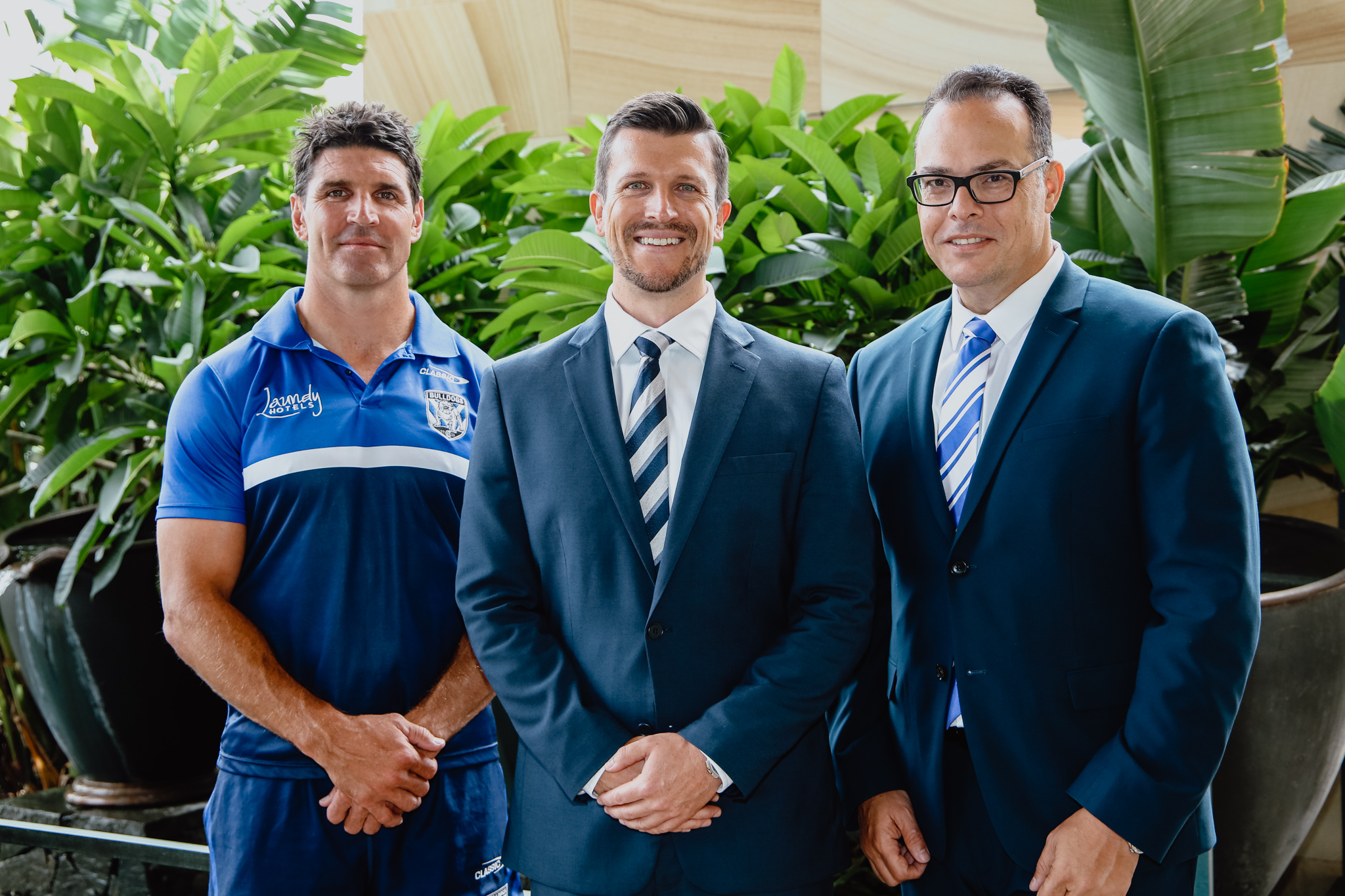 REBUILD is a word that often gets thrown around in professional rugby league, particularly with the modern game being such a success-driven business.
That's why it's imperative to have a strong stable in charge. As the great Jack Gibson famously said; winning starts in the front office.
Well reported dramas in the boardroom, major salary cap mismanagement issues and a worry of disharmony among key stakeholders has haunted the Canterbury-Bankstown Bulldogs of recent seasons.
Despite the results of 2021 thus far, it's not unfair to say that the aforementioned problems have been rectified. But one would be forgiven for thinking the club was actually on the way down, if you were to focus solely on match results. That simply isn't the case.
A new coach, new coaching staff, new players, a new board, a new Chief Executive Officer in Aaron Warburton and a lot of new sponsors. This is a club on the up. The foundations of a genuine rebuild, as Warburton describes it, have been laid.
"I think we're in the thick of a genuine rebuild," he said. "In that round one week we spent two full days building our vision which is an off-field piece that has a lot of on-field undertones to it."
Warburton is no stranger behind the scenes of the NRL world. An extremely talented and motivated individual, he was the club's Head of Commercial Partnerships from 2010-2017, following a successful stint at the Parramatta Eels.
FUTURE PLANS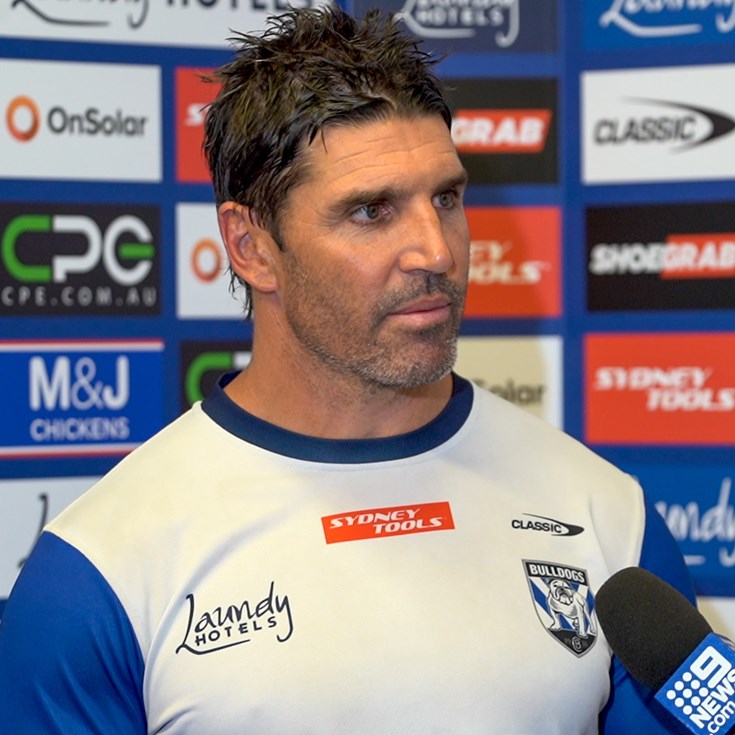 Warburton says the club's vision includes, obviously, wanting to be a top four side for a long time. That is a goal that may seem light years away. But perhaps it isn't.
"On the field we're at ground level but we're on the way up. When we're that powerhouse club we're feared on and off the field," he said, alluding to the peak that the club is striving to achieve in all facets of the sport.
"My first meeting of my tenure was with (new coach) Trent Barrett, because it was important to get my head around the on-field stuff. We need a strategy in place on-field and I'm really comfortable with where that strategy is at."
Warburton speaks highly of Trent Barrett. He knows, and says as much, that the players show up every day with a positive attitude because Barrett is the one with the whistle, who has a vision they all buy in to.
"The first thing he does when he introduces a new player is he sits down and shows some key videos about what it means to be a Bulldog," Warburton explains.
"He speaks about our legacy and creating our path as a Bulldog. He grew up a Bulldogs fan. We need to carve and forge our own way forward as a unit. He's setting that vision and it's almost like he's been at the club for a decade.
"You'd think a rookie coach would skim over that but he has really harnessed nearly 90 years of history."
RECRUITMENT & RETENTION
Embed from Getty Images
You can expect the club to be very active in the player market for season 2022. They've already added Josh Addo-Carr and Matt Burton. Expect more to follow in the coming months.
"We are as active as we have ever been in terms of (the salary cap) and the scope we have to be quite active (in the player market). We also have a fair squad across the board, but they're young and that inexperience is showing.
"We had two players over 25 years of age (on the weekend in round three), which puts it in perspective."
Many in the media will tell you club's like the Bulldogs will have to pay overs for players, but Warburton says that isn't the case at all.
"I don't think we're in that position," he said. "We aren't going out and signing 15 players from other clubs, (but) we will have a good mix of current players and new talent in 2022.
"We're looking at those off contract at other clubs, but also those who may still have a tenure on their contract, and we might poke the bear a little bit on those at the end of the season.
"What I'm seeing is that players are wanting to be a part of this club. The number of players and agents talking to us, they're wanting to come here. The dialogue we're having with players and agents is telling me that we will get to exactly where we need to be."
THE FANS AND SPONSORS
Embed from Getty Images
Warburton said the fan base is viewed by the club as being "everything" to them.
"I know they've been told the same story for a number of years but I hope fans can now see how engaged we've been," he said.
Our playing kit is completely full for the first time in years and, for the first time in four years, we have a waiting list for player sponsors."
The club has also hit their target in membership numbers.
"We need really clear commercial revenue streams that deliver by attracting the right brands that will add value to our club," Warburton said.
That has been proven with a host of major sponsors signing up for season 2021 and beyond. Major sponsors Laundy Hotels and its owners the Laundy family have been vocal and passionate about the club.
McDonalds, Ultimate Security, OnSolar and more have committed to the club. The new board, headed by the respected and highly admired John Khoury, are making nothing but positive moves. Not bad considering the apparent position that some circles of the media will tell you the club is in.
No, the club has not had a successful start on the field for season 2021. But, with everything just discussed, it's clear to see success is coming. It may not be 2021, but this isn't the same only story that's been told for the past few seasons.
This is indeed a "genuine" rebuild. A long-term coach, the right people in and around the club, goals in place with proven strategies to reach those goals and a strong front office backed financially by sponsors and stakeholders.
Be disappointed, be angry if you must, but don't give up. That's the message from Warburton.
"I can only speak from experience, and that is 16 years in the NRL across the Eels and the Bulldogs, and I still see the game as a fan," he said.
"I truly resonate with what it means to turn up week in and week up. You'll never hear me say you can't be upset. Every supporter feels the way they do because they're a fan.
"You'll never hear me say their opinion is wrong. A number of clubs share similar drivers to us, but I feel we have a unique fan base. Everyone needs to see that there's light."
DEVELOPMENT
As happy as the club are with the talent coming through, like 17 year old SG Ball centre Paul Alamoti who recently re-signed with the club until 2023, Warburton admits they are "a long way" from where they want to be as a development club.
"We're in the process of securing some space at the Dunc Gray Velodrome in the Crest Sporting Complex in Bass Hill," he explained.
"It will be the club's high performance centre for our development squads. That means that all of our junior squads will be housed there.
"It will basically be a replica to what the NRL squad is and will have structures and developments in place exactly the same as the NRL. That has been one of Trent's main visions and it's happening soon."
Our thanks to Aaron Warburton and the Bulldogs club for the story. Follow Nothing But League on Twitter and Facebook.