Double Whammy For Fans Refunded Grand Final Tickets
Devoted Penrith Panthers and South Sydney Rabbitohs fans have received the dreaded email that they won't be able to attend Sunday's decider due to Suncorp Stadium's 25% capacity reduction.
Emails started to filter out to the thousands of affected ticket holders at 9:30pm last night. The last 12.5% of the first allocation of public seats were given the news along with the last 12.5% of those who purchased tickets on Monday.
This has made fans irate given they don't have the chance to go to the first NRL Grand Final decider to be played in Brisbane. Adding to the anger is that fans won't get an immediate refund.
CHECK OUT OUR GRAND FINAL PREVIEW
"I was angry at 9:30pm Thursday when I heard the devastating news", said passionate Panthers fan 'Paully', who was part of the cull.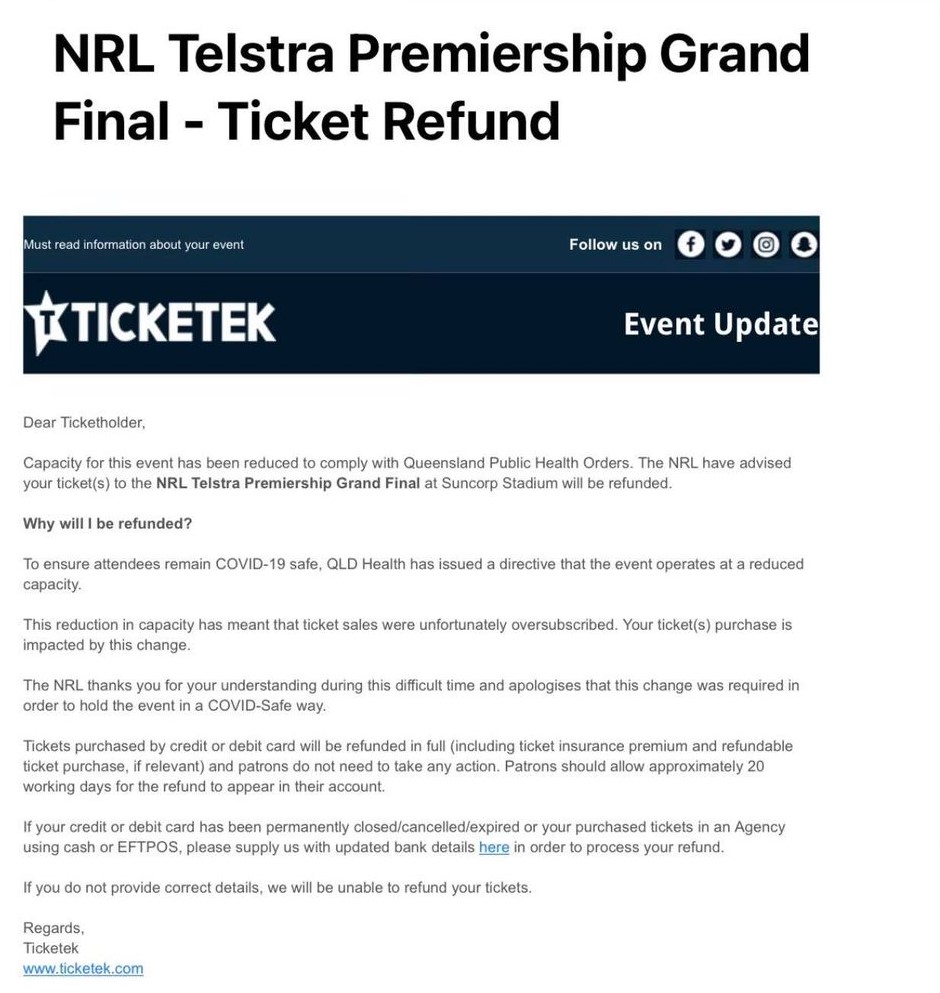 "I purchased tickets with one of my best mates Monday morning (as government promised a new release open for available tickets)".
In the official refund letter, Ticketek are asking fans for patience in waiting 20 business days for a refund. There appears to be a lack of compassion given supporters spent hundreds of dollars on tickets.
"I'm disgusted in the way every party has gone about this, as simple as that. I don't want to wait a ridiculous 20 business days for my refund to come through."
Valid ticket holders have started to receive confirmation they can attend the game.
Today the Queensland Government has announced two new COVID-19 cases which are linked to existing clusters. This means south east Queensland avoids a lockdown for now.