A Comprehensive Analysis of the 2022 NRL Draw
PENRITH PANTHERS
Penrith play the most Friday games in 2022. Penrith lost three games last regular season, but two of those were on a Friday.
KEY MATCHES
R3 – Saturday 26th March v Knights in Bathurst
R4 – Friday April 1st v Rabbitohs in Penrith – Grand Final Replay
R9 – Friday 6th May v Parramatta in Penrith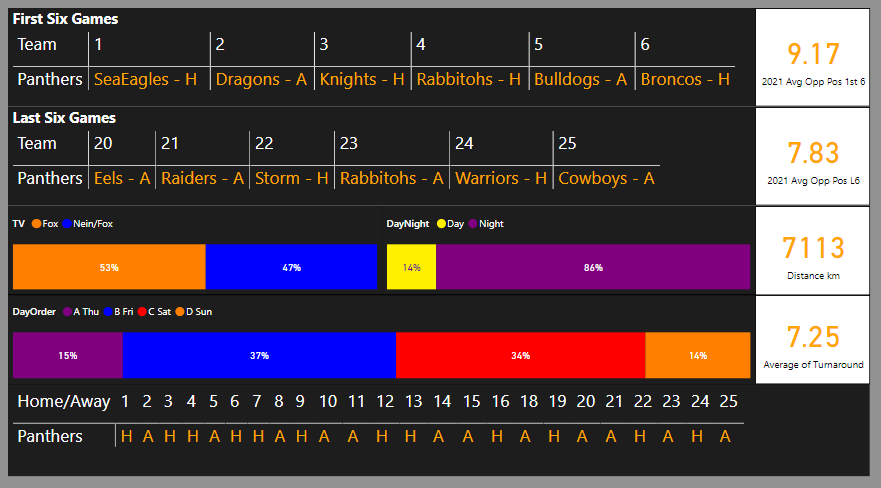 SOUTH SYDNEY RABBITOHS
The Rabbitohs have the fewest turnaround of seven days or more in 2022.
Souths and Brisbane have to play three of the top five in the first six rounds, which will be particularly hard for Souths given their terrible recent record against Penrith and Melbourne.
The Rabbitohs travel less than 50km in the last six rounds of the season
KEY GAMES
R1 – Friday 11th March v Broncos @ Suncorp – Adam Reynolds v old club.
R3 – Friday 25th March v Roosters @ Stadium Australia
R4 – Friday 1st April v Penrith @ Penrith
R25 – Friday 22nd August v Roosters @ TBA
CANBERRA RAIDERS
The Raiders play more day games than any other team in 2022.
Canberra have the equal most turnarounds of seven days or more in 2022.
Canberra play the most games with a 4pm kick off.
And the most games on a combined Saturday/Sunday: 21/24 of their games.
KEY GAMES
R4 – Saturday 2nd April v Manly @ Mudgee
R5 – Saturday 9th April v Melbourne @ Wagga
R11 – Sunday 22nd May v Rabbitohs @ Dubbo
SYDNEY ROOSTERS
The Roosters get a sweet run of four home games in their last five clashes.
KEY GAMES
R3 – Friday 25th March v Rabbitohs @ Stadium Australia
R25 – Friday 22nd August v Rabbitohs @ TBA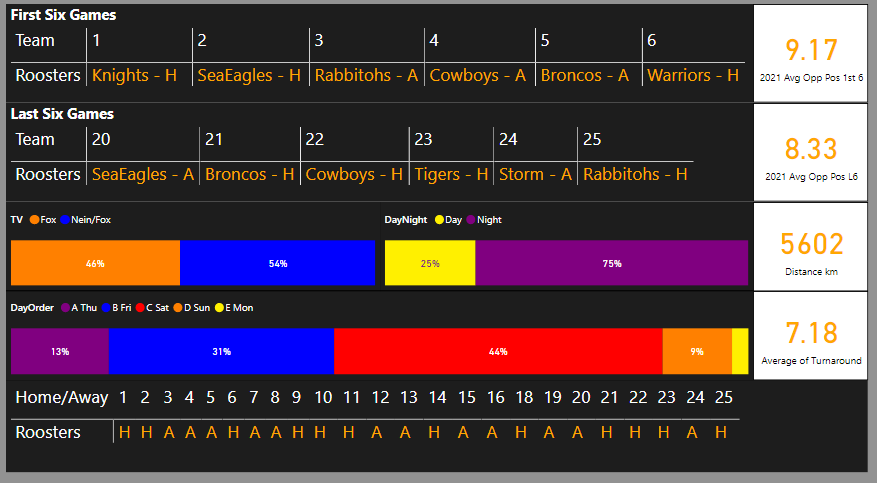 continued