2023 NRL: Finals Stats – Panthers Vs Storm
Related: Panthers Vs Storm Match Preview
Related: NRL Predictions: Prelim Finals
The NRL prelim finals are here. We take a look at some of the head-to-head and individual player stats for the Panthers Vs Storm game.
The last two teams to win an NRL Premiership meet one week short of the grand final, where Penrith couldn't be blamed for wanting revenge on the 2020 grand final.
Penrith continue to dominate the competition and although they have had to deal with a few more injuries and a bit more bad luck than previous seasons, they are still favourites to win the 2023 NRL title, and rightly so.
Melbourne on the other hand it could be argued have had an up and down season, with some performances in the second half of the season being quite underwhelming. You could also argue that the Storm are lucky to be here after a referee howler last weekend. Although, those went either way, so here Melbourne is.
FINALS RECORD (Including Finals Head-To-Head)
The last four teams to beat Penrith as the home side are Parramatta, Wests Tigers, Brisbane and Melbourne.
Panthers have won both games versus Melbourne this season – both games were on a Friday.
Penrith have won 19 from 21 home games on a Friday since 2020.
Penrith have won seven finals games in a row.
Penrith have won 6 from 8 at the Olympic Stadium in finals. One of the two losses was to Melbourne in the 2020 grand final.
Melbourne have lost their last three Friday away games, and scored just 14 points on total across the three games.
The Storm have also lost four of their last away finals matches.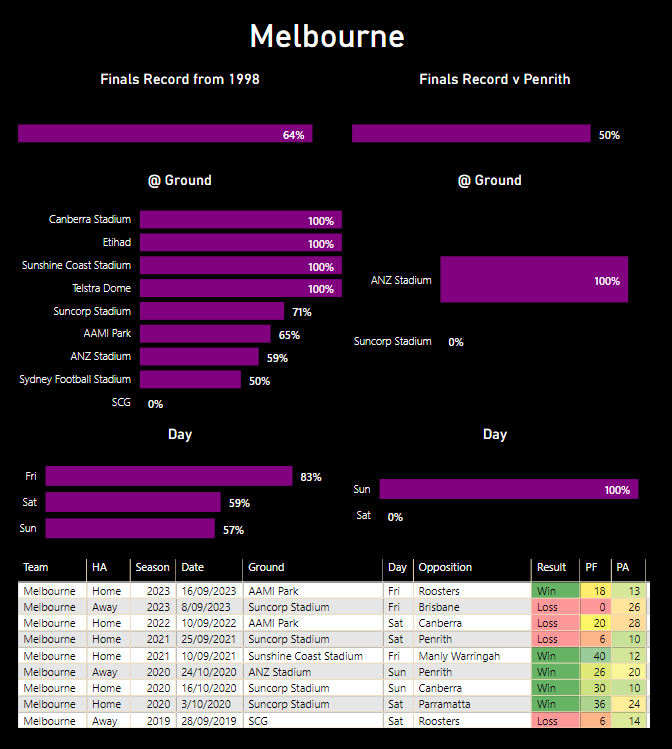 KEY PLAYER HEAD-TO-HEAD STATS