The Rivalry: Roosters Vs Rabbitohs
It's the most traditional rivalry in the National Rugby League. Here's some stats to consider for the Roosters Vs Rabbitohs clash.
Note: records since 1998
ROOSTERS HOLD THE 1998 HEAD-TO-HEAD ADVANTAGE, BUT SOUTHS HAVE EVENED THAT UP RECENTLY
The Roosters hold a decent advantage over the Rabbitohs since 1998, it doesn't help that South Sydney's return to the competition coincided with one of their worst teams in a while, and a golden period for the Roosters where they made three Grand Finals in a row. Winning one.
The Roosters won nine in a row from 1998 to March 2005, and 12 of the 14 games between 1998 and 2009. Covid slowed down the Roosters, winning just two of seven since 2020.
But South Sydney have the upper hand recently. They lead 13-11 for the last ten seasons and have won five of the last six clashes.


SOUTHS WINLESS AT ALLIANZ STADIUM ON A FRIDAY
Some Head-to-Head throw up the occasional statistical quirk, and the Sydney Roosters v South Sydney Rabbitohs match is no different.
It shows that South Sydney have lost all seven games against the Roosters at Allianz Stadium / Sydney Football Stadium on a Friday against the Roosters.
That's a real shame for Souths fans, as this weekend's game is on a Friday.
A Channel Nine favoured Roosters conspiracy, or just tough scheduling luck for South Sydney?
But interestingly, Souths have won four Friday games in a row at grounds other than the SFS/Allianz.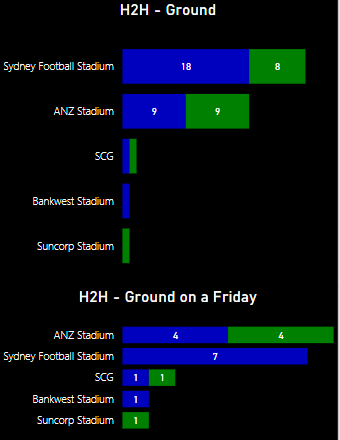 OVER 39.5 POINTS LOOKS ALL RIGHT
The early Sportsbet market has the Total Points Over/Under at 39.5, and according to these Total Points stats for the Ground and Friday, clearing the 40 points is a real chance. Just.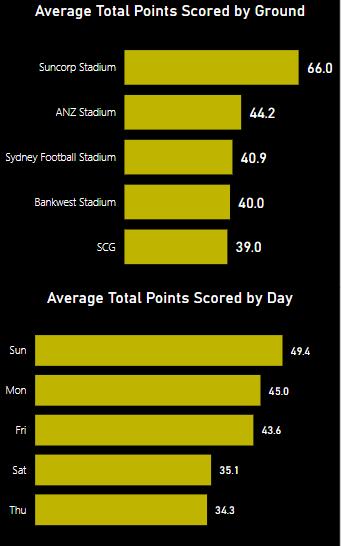 ALL RESULTS FROM 2013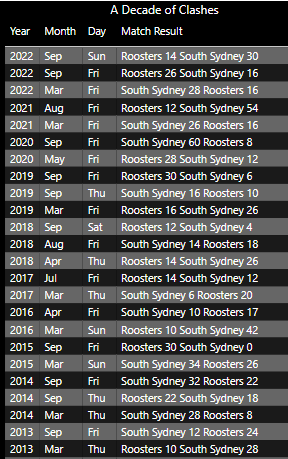 Sydney Roosters versus South Sydney Rabbitohs Player Stats
Here are a bunch of players stats from the Sydney Roosters v South Sydney Rabbitohs matches from since 2018.
LATRELL MITCHELL COMPARISON
There's probably hasn't been a more high-profile recent player switch between the Roosters and Rabbitohs, so here's a look to see how Latrell Mitchell has performed for either side since 2018.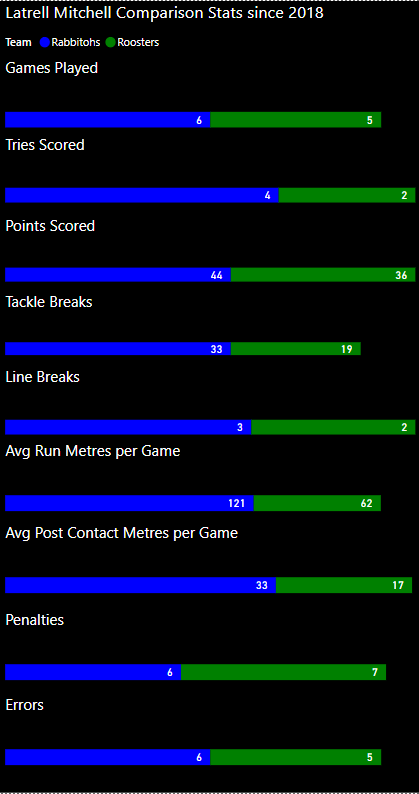 OTHER PLAYERS STATS FROM 2018