FEATURE | Daniel's first time in the Wolfpack Den
Attending your first rugby match can be something special.  The anticipation during the trip to the stadium, the sights and sounds throughout the day, and of course the game itself.  You might be there with family or friends, and you've probably talked with experienced supporters to have an idea of what to expect.
But what if you come with virtually no prior knowledge, and you're comparing your experiences with the only sports you've attended – baseball, basketball, Canadian football, and hockey?  What stands out, what's different, and what makes you want to come back after your first Toronto Wolfpack match?
On June 9th, Daniel, age 11, came to The Den (also known as Lamport Stadium) with four more members of his family, to see the Wolfpack host the London Broncos.  None had been to a rugby league match before, and only Daniel had a little bit of background due to the passion of one of the teachers at his school (That would be me!)
Daniel had seen a few highlights on the big screen in the classroom, and had the opportunity to meet with the Wolfpack's number seven, Ryan Brierley, during a school visit back on a cool day in early May.  Ryan had taken time out of his busy schedule to drive more than an hour north of Toronto to visit two elementary schools, meet with students, and help raise awareness of the sport.
But none of that had prepared Daniel for a day at The Den.
A casual mention that it was their first rugby league match was greeted enthusiastically by complete strangers, with an immediate offer to help explain anything going on.  Life-long Canadians, along with expats from Lancashire and Yorkshire who call Canada home, provided details all game long.  General seating meant that people made space to ensure that the newcomers got a good view, even though the sight lines are good everywhere.
Eric, Daniel's father, was impressed by how family-friendly the venue was, seeing children of all ages, and families sitting together enjoying the experience.  The Toronto Wolfpack's mascot was introduced at this game, and his name, Jefferson, was revealed at halftime.  He went through the stands greeting people and interacting with kids, leaving everyone with a smile on their face; especially Daniel.  "He started smiling when we got there, and he didn't stop.  He smiled the whole time," said Eric.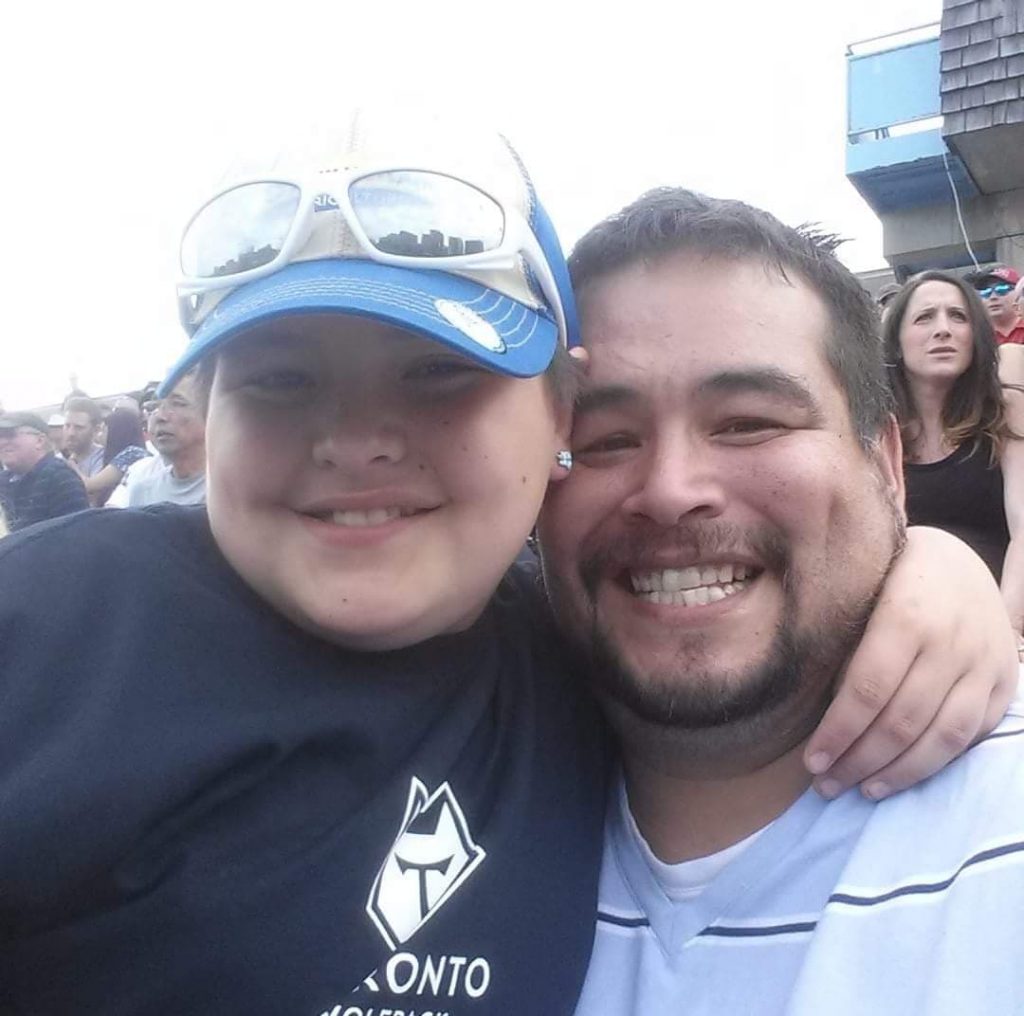 Player accessibility was a real surprise for the family, as those not playing made their way through the crowd to sit in the stands, something not done in other North American professional sports.  With some encouragement from more experienced supporters, Daniel went up to the players to shyly and politely ask for a photo, and all willingly obliged.
This also included team owner David Argyle, who firmly believes that the world is a better place with more rugby balls in kids' hands.  His efforts to make Wolfpack games a welcoming place for children, and a good place for families to come, can be seen just by looking through the crowds.
Being familiar with the equipment worn in Canadian and American football, used as much as weapons as protection, the entire family was surprised by the force of the hits dished out and taken by athletes wearing no helmets or padding, and seemingly having no regard for their own well being.
Fewer breaks in play meant that they were engaged with the action on the field for longer, unable to look away for fear of missing something important.  The closest Canadian sport would really be hockey, due to the steady play, hard hits, and end-to-end action.
When a penalty kick for touch sailed into the crowd, Eric asked why the fans returned the ball.  In hockey and baseball if the puck or ball go into the crowd, it's automatically a souvenir for a fan.  He was told it was likely due to tradition, and cost!  The same can't be said for conversions that end up in the car park or on King Street, as they're likely gone for good if a passer-by spots it.  Wolfpack supporters especially like when the kick hits a streetcar, and openly chant for it.
After the match came yet another feature of rugby league not seen in other professional sports in Toronto, the procession of players from both teams going around the edge of the field, taking photos, signing autographs, and shaking hands with the fans at the match.
In the Wolfpack's first season this would regularly take at least half an hour, and this personal connection contributed in no small part to many people choosing to return to matches, and to attend regularly.  It's a feature of games at Lamport Stadium that spectators look forward to a great deal, and use to encourage others to come.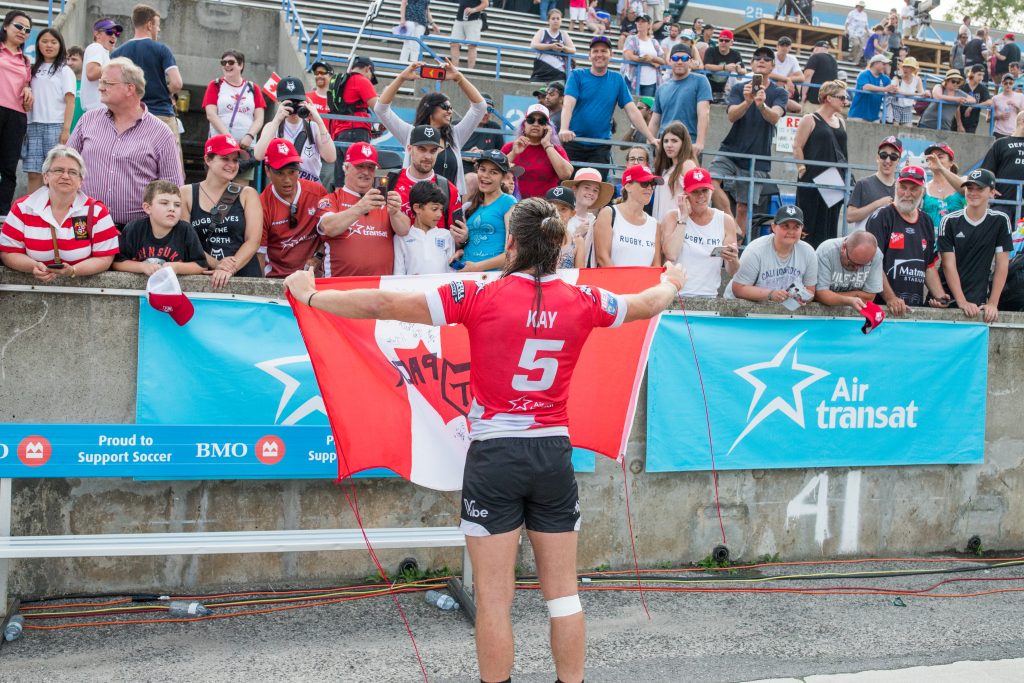 Allowing fans to express their appreciation for all the athletes have done, and hearing the players thank fans and encourage them to return to support the Wolfpack, has really struck a chord with Canadians, especially kids.  Daniel's experience exemplifies that.
As players made their way around the pitch, and Daniel was able to shake hands and take photos with many of the Wolfpack, Jarrod Sammut of the London Broncos approached.  He was tired, his team had just lost a hard match, and he would have had every justification to simply smile, pose, and move on.
A Toronto supporter, a lady who had never met Daniel before, called out that it was the lad's first match.  That was all it took.  With newfound energy, Jarrod climbed over the barrier into the stands, personally welcomed Daniel into the rugby league family, and spent some time talking to him, taking photos, and encouraging him to come again.  This was beyond a player welcoming a fan, it was a man sharing his love of rugby league.
While many aspects of the day would have made this family happy to return, the greetings and acknowledgment by off-duty players, Wolfpack owner David Argyle, athletes after the match, and London Broncos Jarrod Sammut truly 'sealed the deal'.  It turned an interested spectator into a fan.
While many people made their way out, the family found it unusual that music was still playing, and that a significant number were staying and socializing in the beer garden.  When other sports end in Toronto, people make a beeline for the exits, but at Wolfpack matches, it's a party for at least another couple of hours.
Sharing a drink and a conversation with other supporters, visiting fans, players of both teams, and even the refs is unheard of.  Although they hadn't budgeted the time to stay on this day, their experience meant that they will be coming back again, and telling others about their day.  That's the best exposure that the Wolfpack and rugby league in general could hope for.