Welcome to the Panther Pride!
Queensland Penrith Panther Pride have been supporting the Penrith Panthers since 2005 and welcome Panthers fans to our pre-match events when the team plays in the Sunshine State.
We thank The Paddo Tavern in Brisbane for welcoming us to their venue for games at Suncorp Stadium.
Patron - Scott Sattler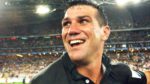 Panthers great Scott Sattler was part of our 2003 NRL Premiership side, playing 118 of his 203 NRL matches with the Panthers, scoring 16 tries and 1 goal in his time at the club. Satts also represented Queensland once in 2003.
Twitter: @ScottSattler13
Patron - Martin Lang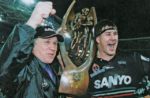 Martin Lang was part of our 2003 Premiership winning side, turning out for the Panthers 67 times between 2002 and 2004.  He played 176 NRL games for Cronulla and Penrith, representing QLD 8 times.
Twitter: @Martin_Lang11
Latest Penrith Panthers News