The Koori Knockout and the Women's Game
The Koori Knockout plays a significant role in the creation of Australian women's rugby league, bringing coverage, players and fame to the women's game. It was actually my first encounter with women's rugby league when I saw a replay on NITV in the offseason. I was in awe, not because so many Jillaroo and state players are involved, but because such a strong and talented competition exists.
The Koori Knockout is an annual four-day rugby league competition, originally created to eliminate racism in the game. It's a round robin tournament, with 56 men's teams, 26 women's teams and 53 junior teams. Each team has 25 players, with unlimited interchange. The round games are 20-minute halves, finals 30 minutes halves and the grand final 40-minute halves.
This year in the female competition, the Redfern All Blacks beat the Dunhutti Jindas 12-8. The Redfern All Blacks are the longest standing Indigenous team and were favourites to win back to back titles this year.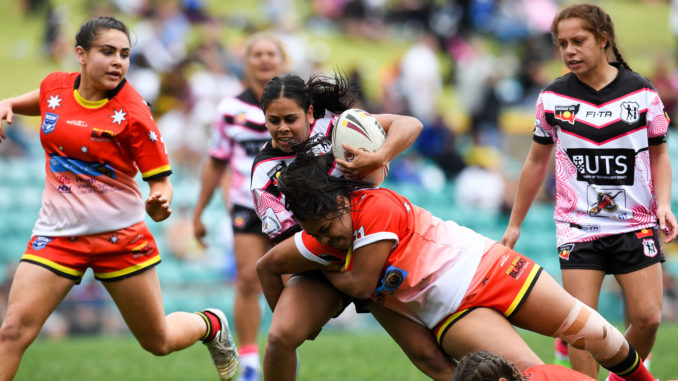 This competition and its teams bring so much to women's rugby league, on a local and national scale.
The annual knockout gains significant attention within the rugby league community. Indigenous and non-indigenous NRL players and coaches attend the game for recreational and scouting reasons. Many past and present NRL players are known to participate, such as George Rose and Chris Sandow, as well as many NSW and Holden cup players. Scouts for NRL sides are often known to regularly attend these, which is a huge push for younger participants. This opens the door for so many opportunities for the women's players, and the possibility of female NRL teams in the future.
Unlike many knockouts, the competition is televised on free to air TV channel NITV. Being right on the edge of the offseason, it gets a lot of people watching to get their rugby league fix. Being televised helps it to gain significant attention in itself, but being on free to air television does this even further. This is one of the only times women's rugby league is televised, let alone on free to air, so plays a key role in its coverage.
The Koori Knockout plays such a significant role in Australian rugby league, both now and in the future. It helps to bring our game back to grassroots and guarantees it for the future.
If it has done this to the men's game, it will do wonders for the women's.